September 11, 2011
2011 Season - Augustana falls 1-0 on penalty kick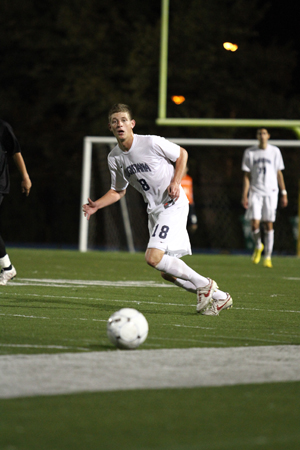 John McSpadden and his Vikings teammates couldn't find the goal Sunday, falling 1-0 to Concordia-Moorhhead at the Cobber Classic.
MOORHEAD, Minn.- In a rugged contest that featured 33 fouls, a goal on a penalty kick less than 11 minutes in allowed Concordia-Moorhead to hand Augustana its second defeat in as many days at the Cobber Classic. The hosts improve to 3-2 on the season while the Vikings fall to 2-2.
The Cobbers took advantage of a foul and caution against Viking goalkeeper Tyler Cowherd (Bettendorf HS, Bettendorf, Iowa) to take the lead in the 11th minute. Riley McGlynn converted the penalty kick to give Concordia a 1-0 lead which held up through the rest of the match.
Augustana held a 15-8 edge in shots in the contest, including an 8-3 margin in shots on goal. However, Cobber keeper Peter Runquist was up to the challenge, recording eight saves in the shutout win. The visitors also had an 8-2 advantage in corners, but hurt themselves with 21 fouls. Cowherd was credited with a pair of saves for Augustana.
The Vikings are on the road again Wednesday, September 14, visiting Beloit in a 4:00 p.m. contest.