September 10, 2011
2011 Season - Augustana bounces Calvin 4-1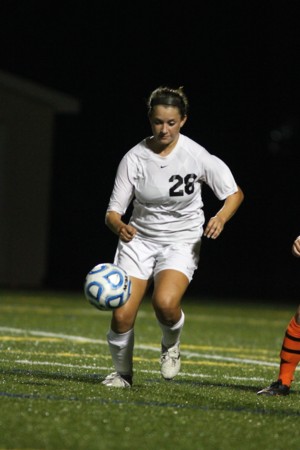 Freshman Taylor Navarro scored her second goal of the season in Augustana's 4-1 win over Calvin Saturday in Grand Rapids, Michigan.
GRAND RAPIDS, Mich.- An own goal by Calvin in the 24th minute got Augustana on the board Saturday, but the Vikings found the net three more times on their own, cruising to a 4-1 win over the hosts in the Knights' 2011 home opener. Coach Scott Mejia's crew is now 2-2 on the season, while Calvin falls to 0-4.
The first half ended 1-0, but Augustana quickly extended the lead when Caitlin Winkelman (St. Charles North HS, St. Charles, Ill.) scored her second goal of the season off a Taylor Moesle (Sandburg HS, Orland Park, Ill.) feed in the 53rd minute. The lead reached 3-0 in the 78th minute when freshman Taylor Navarro (York HS, Elmhurst, Ill.) scored on an assist from senior Ashley Higuchi (Smoky Hill HS, Aurora Colorado). It was Navarro's second goal of the season, tying her with Moesle and Winkelman for the team lead.
Liz Cancel got the Knights on the board when she scored off a free kick in the 83rd minute, but Viking senior Jenna Doyle (Regis Jesuit HS, Parker, Colo.) pushed the lead back to 4-1 four minutes later, scoring on an assist from fellow senior Mary Pat Holtrop (St. Charles North HS, St. Charles, Ill.).
Junior Bridget McDermott (Prospect HS, Mt. Prospect, Ill.) got the call in goal for Augustana and went the distance, allowing just Cancel's goal while making six saves.
Despite the score, the shots and shots-on-goal statistics were close. Augustana held a 15-14 edge in shots, while the Knights actually held a 10-9 edge in shots on goal. The Vikings had a 5-2 advantage in corner kicks.
Augustana will be back at home on Wednesday, September 14, taking on Fontbonne at Thorson-Lucken Field at 7:00 p.m.