September 10, 2011
2011 Season - Vikings suffer first loss to St. Scholastica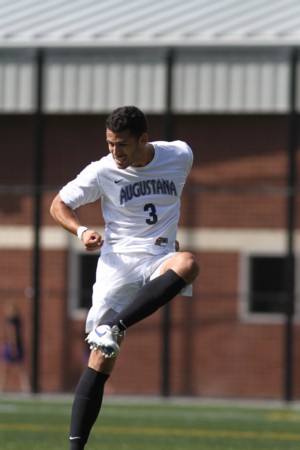 Jason Beckus' first goal of the season was the Vikings' only score in a 2-1 loss to St. Scholastica Saturday.
MOORHEAD, Minn.-After two consecutive shutouts to start the season, Augustana looked in good shape again Saturday, leading 1-0 at the half against St. Scholastica. Unfortunately, the Vikings surrendered a pair of second half goals and the Saints held on for a 2-1 win at Concordia-Moorhead's Cobber Classic. The loss dropped coach Brenton Joseph's Vikings to 2-1 on the season. St. Scholastica improved to 3-1.
Junior Jason Beckus (Neuqua Valley HS, Naperville, Ill.) got the Vikings started, scoring his first goal of the season on a John McSpadden (Geneva HS, Geneva, Ill.) assist 29 minutes in. Augustana goalkeeper Tyler Cowherd (Bettendorf HS, Bettendorf, Iowa) kept the Saints off the board in the opening half, making a pair of saves.
However, in the 62nd minute, St. Scholastica's Andrew Jenkins got the equalizer on an assist from Kyle Farrar. The goal was the first allowed by Cowherd in 2011 after 197 scoreless minutes in goal. Five minutes later, it was again Farrar assisting, this time on an Erik Trochimchuk goal that gave the Saints a 2-1 lead. Joe Watt was also credited with an assist on the play.
Despite holding a 15-10 edge in shots and an 8-6 advantage in shots on goal, the Vikings couldn't find the net again and suffered their first loss of the season. Cowherd finished with four saves.
Augustana will look to bounce back in a Sunday noon contest with the host Cobbers of Concordia-Moorhead.