September 10, 2011
2011 Season - Tisza, Vikings second at Luther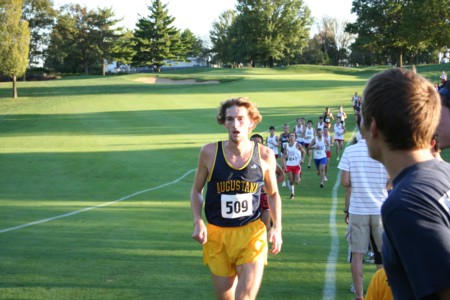 Senior Mike Tisza and his Viking teammates both finished excruciatingly close to championships at Saturday's Luther All-American Invitational. Tisza was edged out for the individual title by one second and Augustana finished one point behind team champion Wisconsin-LaCrosse.
DECORAH, Iowa - Senior Mike Tisza (Hersey HS, Prospect Heights, Ill.) ran a 20:35 over the four-mile course at Luther College's All-American Invitational Saturday, a scant one second behind Hamline's Jack Deichert for the individual title. Tisza's second-place finish matched that of Augustana as a team, which amazingly finished a single point behind team champion Wisconsin-LaCrosse.
Viking junior Jonathan Smith (Moline HS, Moline, Ill.) joined Tisza in finishing ahead of all UW-LaCrosse runners. He ran a sixth-place 20:44. The highest Eagle finisher was ninth-place Mark Punzenberger, but the team's top five all finished in the top 17. The Eagles had seven of the top 21 finishers in the 17-team meet.
Junior Brian Pollastrini (York HS, Elmhurst, Ill.) ran an 11th-place 20:50 and senior Thomas Christian (Port Angeles HS, Port Angeles, Wash.) rushed to a time of 21:12 to finish 23rd. Junior Nathan Smith (Fenton HS, Bensenville, Ill.) rounded out the Viking top five, finishing 27th in 21:16. Senior Brandon Gittelman (Naperville Central HS, Naperville, Ill.) and junior Justin Smith (Fenton HS, Bensenville, Ill.) were 43rd and 44th, running 21:33 and 21:34, respectively.
Behind UW-LaCrosse (66) and Augustana (67), were Hamline in third (73) and Loras (127) in fourth. Wisconsin-River Falls rounded out the top five with 127 points.
This Friday, September 16, coach Paul Olsen's Vikings will be competing at the Illinois Intercollegiate Championships in Normal, Illinois. That meet is scheduled for a 5:00 p.m. start.