September 10, 2011
2011 Season - Jones leads Augustana to fifth at Luther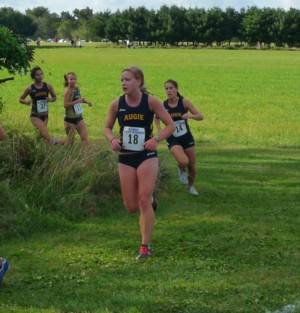 Sarahbeth Jones was the top Augustana finisher Saturday at the Luther All-American Invitational. Jones completed the 5-kilometer course in 19:23 to finish 10th. Her performance helped the Vikings finish fifth among 15 teams.
DECORAH, Iowa - Reigning CCIW Runner of the Week Sarahbeth Jones (Gurnee, Ill. Warren Township HS, Glen Allen, Va.) continued to perform well, running a 10th-place 19:23 Saturday at the Luther All-American Invitational. Jones' effort helped coach Fred Whiteside's Vikings to a fifth-place finish in the 15-team field.
Iowa Central was the team champion, finishing with 53 points. The Luther Alumni were second with 62 points followed by Wisconsin-LaCrosse (92) and Luther (99). Augustana had 139 points to edge Cornell (153) for fifth place. Grand View's Obsie Birru won the individual title in 18:19, a whopping 35 seconds ahead of her closest pursuer.
Viking freshman Becca Sund's (Palatine HS, Palatine, Ill.) 19:56 earned her 21st place and junior Theresa Coverick (Stagg HS, Palos Park, Ill.) was 32nd in 20:23. Another first-year Viking, Stephanie Burbridge (Palatine HS, Palatine, Ill.) ran a 20:34 for 40th place and junior Tara Bistry (Joliet Catholic HS, Shorewood, Ill.) finished 46th with a time of 20:40. Rounding out the Augustana contingent were sophomore Kristyn Barton (York HS, Elmhurst, Ill.) and junior Annie Heifner (Oregon HS, Oregon, Wis.), who ran 20:42 and 20:51 to finish 48th and 59th, respectively.
On Friday, September 16, the Vikings head to Normal, Illinois and the Illinois State University Golf Course, where they'll compete in the Illinois Intercollegiate Championships. The starter's gun is scheduled for 4:00 p.m.