September 10, 2011
2011 Season - Central holds off Augustana 31-23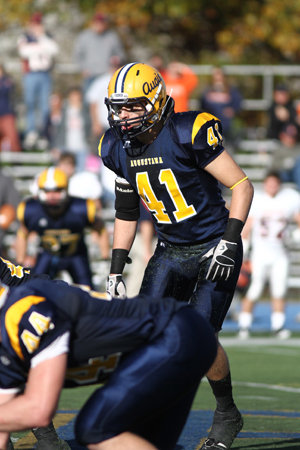 Sophomore linebacker Erik Westerberg recorded 14 tackles in Saturday's 31-23 loss at Central.
PELLA, Iowa-Senior quarterback David Lee (Springfield HS, Springfield, Ill.) threw for two touchdowns and ran for another, but it wasn't enough to prevent Augustana from going down to defeat against Central 31-23 Saturday at Schipper Stadium. The Dutch duo of Nate and Jeremy Snead were keys to the home team's victory.
The game started off well for the Vikings as they took the opening kickoff and went 78 yards in 12 plays. The drive took six minutes off the clock and was culminated with a seven-yard Lee to Jack Gilleland (Marian Central HS, McHenry, Ill.) touchdown pass. Freshman Antonio Owens (Naperville North HS, Naperville, Ill.) caught a 24-yard toss from Lee to start the drive and also had jet sweep runs of six and 11 yards on the march. Lee completed 4-of-4 passes for 42 yards.
Central responded by going 56 yards in 12 plays, but its drive was thwarted when Augustana's Danny Hess (Naperville North HS, Naperville, Ill.) stripped the Dutch's Ross Doehrmann of the ball and Ben Hall (University HS, Normal, Ill.) recovered at the Viking 19-yard line.
A seven-yard touchdown pass from Central's Nate Snead to Jeremy Wilkin on the second play of the second quarter, along with Kevin Sheldon's PAT, evened the score at seven. The Vikings retook the lead less than five minutes later when freshman Brady Rogers (Cherokee Trail HS, Aurora, Colo.) capped an 11-play, 67-yard drive by drilling a 42-yard field goal with yardage to spare.
A pair of Augustana penalties on the next possession helped Central go 81 yards in 10 plays to grab its first lead of the game at 14-10. That's the way the half would end as Rogers 48-yard attempt at the gun missed wide left.
After each team went three-and-out on its first possessions of the second half, the Snead brothers team up for what may have been the game's key play. From the Central 36-yard line, Nate found Jeremy in a seam just past midfield and the senior wideout weaved his way through the Viking secondary for a 64-yard touchdown. Sheldon's extra point made it 21-10 Dutch at the 10:00 mark of the third quarter.
This time it was Augustana's turn to respond. Lee connected for a key 34-yard pass play to Nick Krantz (Moline HS, Moline, Ill.) on third-and-seven to keep the drive alive. He then hit Zachary McCullough for 17 yards on the next play and finished off the drive with a 14-yard keeper to cut the Central lead to 21-16. The point after was no good.
A 37-yard Sheldon field goal made it 24-16 and then the Dutch's Adam Petz picked off a Lee pass and returned it to the Viking three. Doehrmann went in one play later from four yards out to make the score 31-16. It stayed that way when Central came up with a goal line stand on Augustana's next drive, stopping Owens at the two-yard line on a fourth-and-goal with 7:55 remaining in the game.
Lee and Krantz combined on a five-yard touchdown pass with 18 seconds left to make the final 31-23 after Rogers' PAT.
Lee completed 25 of 41 pass attempts for 299 yards with two touchdowns and two interceptions. Krantz snared eight of those passes for 102 yards and a score. Owens was the Vikings' leading rusher with 48 yards on seven carries and he caught four passes for 46 yards as well. Augustana outgained Central 416 total yards to 358, but turned the ball over twice while only being able to recover one of four Dutch fumbles on the day. Erik Westerberg (York HS, Elmhurst, Ill.) led the defense with 14 tackles and Mitch McGilliard (Neuqua Valley HS, Naperville, Ill.) added 10. Hess had three tackles for loss and a forced fumble. Nate Snead rushed for 105 yards and a touchdown and threw for another 188 and two scores. Jeremy Snead caught four passes for 78 yards and a touchdown.
Now 0-2 on the year, the Vikings are at home on Saturday, September 17 against Adrian. The Bulldogs visit Ericson Field for a noon contest.