September 9, 2011
2011 Season - Big comeback results in win over Hendrix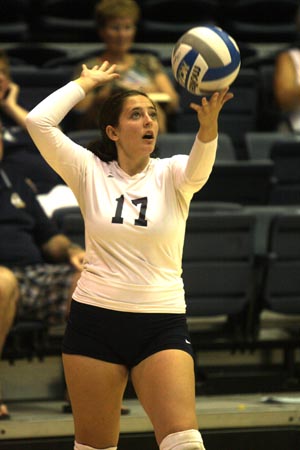 Freshman Julee Morrison recorded six service aces in Augustana's pulsating 3-2 victory over Hendrix. The Vikings trailed 0-2 in the match before winning the final three sets to up their record to 5-3 on the season.
MEMPHIS, Tennessee - Down two sets to none and trailing 11-6 in the third set, Augustana rallied to an impressive 3-2 victory over Hendrix in the second round of the Rhodes Tournament on Friday, With the victory the Vikings move to 5-3 on the season and the win was the fourth in the row for head coach Jamie Walters' club.
It certainly wasn't easy as Hendrix won the first set 25-20 and a marathon second set by the score of 32-30. Despite being down 0-2, Augustana kept its composure even though at one point in the third set Hendrix led 11-6 and was threatening to make it a 3-0 sweep. A service ace by sophomore Katrina Colclasure (Tri-Valley HS, Bloomington, Ill.) sparked a 4-0 run that narrowed the set at 11-10.
With the score tied 18-18 the Vikings used back-to-back kills from freshman Samantha Kammerman (Sherrard HS, Milan, Ill.) to take a 20-18 lead. They would never trail again in the third set. Senior Brianna Skeens (Vernon Hills HS, Libertyville, Ill.) recorded three straight kills to bump the advantage to 24-19. After a point by Hendrix to make it 24-24, freshman Emily Leazer (St. Viator HS, Mt. Prospect, Ill.) nailed a kill to end the set with Augustana ahead 25-20.
The fourth set was tied at 15-15 before the Vikings went on a 10-4 run to pick up a 25-19 win and force a decisive fifth game. Once again it was a kill by Leazer that ended the set.
Augustana never trailed in the fifth set. Leading 6-4, Skeens had a kill to make it 7-4. Then freshman Julee Morrison (Chaparral HS, Scottsdale, Ariz.) had a service ace, followed by a kill from Skeens and another service ace from Morrison and suddenly it was 10-4. A hitting error by Hendrix and two kills each from Kammerman and Skeens closed out the set 15-4 and the match went to the Vikings 3-2.
Skeens had a career high 21 kills against six errors in 36 attempts for a .417 hitting percentage. She also had four assisted blocks and one solo. Leazer had 18 kills, 20 digs, two setting assists and three assisted blocks. Also in double digits for the Vikings in kills was junior Sarah Williams (Rockford Lutheran HS, Rockford, Ill.) with 11. She added two assisted blocks and one setting assist. Sophomore Morgan Stittleburg (Black River Falls HS, Black River Falls, Wis.) picked up nine kills and Kammerman had seven.
Junior setter Kelsey Mikula (Coal City HS, Coal City, Ill.) was credited with 58 assists and nine digs while Colclasure had 19 digs. Morrison had a team high six service aces.