September 9, 2011
2011 Season - Skeens, Leazer lead win over University of the South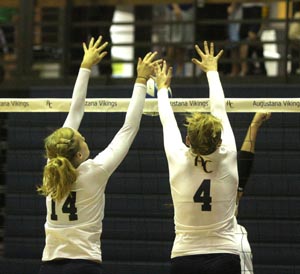 Freshman Emily Leazer (14) and senior Brianna Skeens (4) combined for 29 kills as Augustana defeated University of the South 3-1 in the first round of the Rhodes Tournament in Memphis, Tennessee.
MEMPHIS, Tennessee - Thanks to the two-pronged attack of senior Brianna Skeens (Vernon Hills HS, Libertyville, Ill.) and freshman Emily Leazer (St. Viator HS, Mt. Prospect, Ill.), Augustana got off to a good start in the Rhodes Tournament in Memphis, Tennessee on Friday, September 9. The Vikings dropped game one to the University of the South by a score of 20-25 but roared back to win three straight sets by scores of 25-15; 25-11; 25-23. The result was a 3-1 match victory as head coach Jamie Walters' team moved to 4-3 on the season.
Skeens pounded out 17 kills and had a pair of digs and two assisted blocks. Leazer added 12 kills with 24 digs, five service aces and three assisted blocks. Leazer hit at an outstanding .455 clip with just two errors in 22 total attempts while Skeens had a .294 hitting percentage with seven errors in 34 attacks.
Junior Sarah Williams (Rockford Lutheran HS, Rockford, Ill.) put down nine kills with one error in 18 attempts and she had a .444 hitting percentage. Williams had two digs and four assisted blocks. Sophomore Paige Buchanan (Millard North HS, Omaha, Neb.) had six kills.
Junior Kelsey Mikula (Coal City HS, Coal City, Ill.) recorded 48 assists with four service errors, 14 digs, one assisted block and one kill. Sophomore Katrina Colclasure (Tri-Valley HS, Bloomington, Ill.) led the team with 37 digs.