Experience abroad results in 'Travel Reads' series
September  09, 2011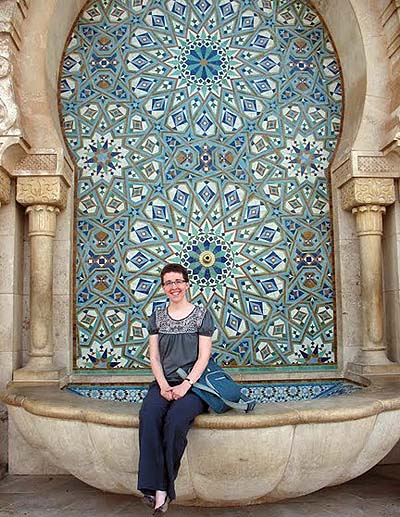 Amanda Makula poses for a photo at the Hassan II Mosque in Casablanca, Morocco.
Amanda Makula, a reference librarian at Augustana College, spent a week in Spain and a week in Morocco this summer. Her international experience is the basis for a book discussion series, Travel Reads.
To begin the series, the first book, The Motorcycle Diaries by Ernesto "Che" Guevara, will be discussed from 4-5 p.m. on Sunday, Sept. 25 in Carlsson Evald Hall.
Makula traveled abroad as part of a Council on International Educational Exchange (CIEE) International Faculty Development Seminar. She was one of three Augustana faculty members to participate in the CIEE's summer 2011 programing, which is designed to provide faculty and administrators from institutions of higher education with a more contemporary, global perspective.
"The book discussion series is a way to talk about travel and how travel changes people," Makula said. "We evolve as individuals when we experience different languages, cultures and customs."
Feeling inspired by her international experience, Makula wanted to encourage conversation about travel. She worked with Augustana's Office of International and Off-Campus Programs to select five books that have ties to five of the continents.
The remaining books are:
Undress Me in the Temple of Heaven by Susan Jane Gilman (November 20),
No Reservations by Anthony Bourdain (January 29, 2012),
The Shadow of Kilimanjaro by Rick Ridgeway (March 18, 2012) and
Funny in Farsi by Firoozeh Dumas (May 6, 2012).
All discussions will be held from 4-5 p.m. on Sundays in the Great Hall of Carlsson Evald Hall. The events are free and open to the public. A member of the Augustana community will lead each discussion.
Sam Schlouch
Senior Communication Director
(309) 794-7833
samschlouch@augustana.edu