September 8, 2011
2011-12 Season - Balanced scoring keys third place finish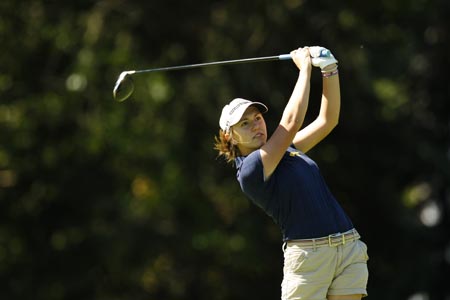 Sophomore Kelly Farina fired an 84 and finished sixth individually to lead the Vikings to a third place finish in the 15-team Augustana Invitational on Thursday, September 8 at Emeis Golf Course in Davenport, Iowa.
DAVENPORT, Iowa - A balanced scoring sheet helped Augustana place a solid third in the Augustana Fall Invitational on Thursday, September 8 at Emeis Golf Course in Davenport, Iowa. The Vikings of veteran head coach Ron Standley recorded a total of 345 as all four players who counted in the scoring shot between 84 and 86.
Wheaton won the 15-team event with a score of 335 while North Central was right behind with a total of 338. Following Augustana in the top five was St. Ambrose (349 in fourth) and Carthage 352 in fifth). Ashford (356), Elmhurst (370), Monmouth (372), Robert Morris (378), Augustana #2 (385), Judson (393), North Central 32 (400), Dubuque (405), Iowa Wesleyan (409) and St. Ambrose #2 (414) rounded out the field.
Sophomore Kelly Farina (Normal West HS, Bloomington, Ill.) was the top Augustana finisher with an 84, which was good for a tie for sixth place. Farina shot 43 on the front nine and came home in 41. Senior Brittany Carr (Lincoln-Way East HS, Frankfort, Ill.) placed 11th with an 86 as she shot 42 and 44. Sophomore Dena Capitani (Hinsdale Central HS, Hinsdale, Ill.) came home with a 41 on the back nine after going out in 46 for a 14th place total of 87. Junior Morgan Wilkinson (Westmont HS, Westmont, Ill.) rounded out the Vikings' scoring with an 88, which placed her in a tie for 18th.
Junior Megan Vandersee (Sterling HS, Sterling, Ill.) shot a 91 and freshman Kaitlyn Czerwonka (Batavia HS, Batavia, Ill.) had a 105. Heading up Augustana's second team in the tournament was sophomore Jamie Lawrence (Moline HS, Moline, Ill.) with a 90 that put her in a tie for 25th place. Sophomore Kelly Olson (Prairie Ridge HS, Crystal Lake, Ill.) had a 94 and sophomore Katelyn Lazar (Williamsville HS, Sherman, Ill.) shot a 97.
Wheaton finished one-two in the individual scoring with Sarah Moore winning with a 76 while Debby Bouzeos finished second with a 79. North Central's duo of Mallory Carrr and Marisa Miko tied for third with scores of 83 as did Taylor McAdams of Carthage.
Augustana has had a busy week on the golf course and it is not over yet. After placing eighth at the North Central Invitational and third in the Augustana Invitational, the Vikings will head to Monmouth, Illinois on Saturday, September 10 for the Monmouth Invitational at Gibson Woods.