Athletics offers live-streaming of games
Volleyball, soccer, basketball and wrestling will be available to watch online
September  08, 2011
Sept. 1 turned out to be a day of firsts in the Augustana Athletic Department: It was the first football game of the "Rob Cushman Era," the first-ever Thursday night football game in Vikings history and the first public look at a new Viking logo.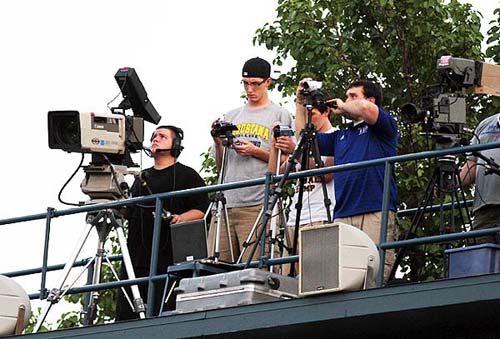 Jacob Misener (standing in center), a junior at Augustana, sets up to run a camera for video-streaming at a recent game.
Another significant "first" was the initial live video streaming of an Augustana athletic event.
In what promises to be an exciting new venture, the Vikings' game with Dubuque became the first varsity athletic contest to be streamed live on the web. Mike Zapolski, director of athletics, spearheaded the move to get the Vikings online live so that parents, fans and alumni can catch the action from home.
"We think that streaming our athletic events live is just another step as we move the department forward," said Zapolski, who signed an agreement with Stretch Internet this summer to be the provider of the web stream for Augustana athletic events. "This has been a long time in the planning stages and it was nice to see it come together with the first video webcast in our game with Dubuque."
Although football was the first event to be streamed live, the plan is to provide webcasts in volleyball, men's soccer, women's soccer, men's basketball, women's basketball and wrestling. Logistics need to be worked out but softball and baseball are possibilities as well. In the weekend after the opening football game, the athletic department, with assistant sports information director Dan Sand in charge, produced broadcasts of five volleyball matches in the Augustana September Invitational.
At this time the football broadcasts are accompanied by the audio broadcast from WAUG student radio. The volleyball and soccer matches will only have live video although that may change as the season progresses.
Fans interested in catching the Augustana broadcasts can go to the athletics web page and click on the link that says Follow the Vikings Live. The athletic department provides "Livestats" for three sports football, men's soccer and women's soccer) in the fall.
To view past video streams, go to Game Central and click the "On Demand" tab to see a list of available videos.
— Dave Wrath