September 6, 2011
2011-12 Season - Vikings take sixth in DelVecchio's coaching debut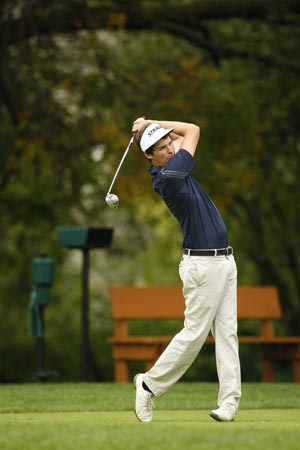 Junior Jeff Paustian was the lone upperclassman in Augustana's top five in the opening meet of the season. He shot a 92 at the Meadows Golf Club in Asbury, Iowa at the Loras Invitational.
ASBURY, Iowa - The Augustana Vikings Men's golf team began its season under first year head coach Paul DelVecchio with a sixth place tie at the Loras Invitational. The 11 team event took place on Tuesday, September 6th at the Meadows Golf Course in Asbury, Iowa.
Led by freshman Jake Groselak (Lemont HS, Lemont, Ill.), Augustana recorded a score of 345 in the invitational, which was won by Dubuque with a score of 307. Groselak shot an 83 to earn a 24th place finish individually.
Other freshman stepped up as well as Grant Murphy (Dunlap HS, Peoria, Ill.) shot an 86, Josh Kukla (Zion-Benton HS, Winthrop Harbor, Ill.) recorded an 87 and Max Channon (Wheaton Warrenville South HS, Wheaton, Ill.) had an 89. Rounding out the top five was junior Jeff Paustian (Geneva HS, Geneva, Ill.) who shot a 92.
Also posting well, although not counting in the team score, was senior Greg Karesh (Downers Grove South HS, Downers Grove, Ill.) who shot an 88 to place in a tie for 43rd individually.
The Vikings are back in action on Friday in Port Byron, Illinois when they participate in the Duane Chanay Invitational.