WVIK names Jay Pearce as general manager
September  07, 2011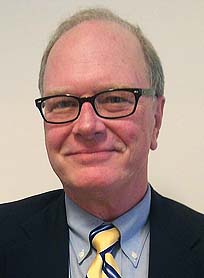 Jay H. Pearce
Pearce will assume his new role at WVIK Oct. 3. He replaces Kai Swanson, who has held the position of interim general manager since January.
"Based on his extensive experience in public radio, it's apparent that Jay Pearce understands the importance of a station that is accountable to the community it serves. His work in community engagement and content development, especially, will bring a new and vital facet to WVIK's mission as a public radio station," said Steven C. Bahls, president of the college.
In his position with Illinois Public Media, Pearce is responsible for locally created content for WILL-TV/AM/FM/Online, all public broadcasting stations licensed to the University of Illinois. He also leads funding efforts for Illinois Public Media's local content creation.
Previously, he worked as station manager at WILL-AM/FM and program director at WILL-AM. During his 36-year career in radio he has held a variety of positions at stations in Illinois, Missouri and Texas.
"Augustana sees WVIK as one of the foremost expressions of its commitment to the Quad Cities region," Bahls said. "I expect that Jay's considerable management skills, combined with his highly attuned sense of the important role public radio can play in a community, will help lead WVIK to even greater prominence in the Quad Cities and beyond."
Interim general manager Kai Swanson said, "It's been deeply rewarding to work closely with WVIK's staff in the fulfillment of the station's mission, which is to serve the life of the mind through comprehensive news and arts programming. It's been a pleasure to watch the station live this mission on a daily basis for the past eight months, and I'm confident Jay will be an effective steward of that mission."
Pearce's appointment comes after a six-week national search. Thomas D. Leach, a member of the Augustana Board of Trustees and a retired senior executive from the Tribune Company, led the search committee.
WVIK reaches listeners in a 75-mile radius over northwestern Illinois, eastern Iowa and southwestern Wisconsin. It is a self-sustaining public radio station that broadcasts at 31,000 watts in the Quad Cities at 90.3 FM and 95.9 FM in Dubuque, serving an estimated 1.4 million listeners every year. The station provides local programming dedicated to fine arts, significant news, and a special service for the sight-impaired population through Augustana Public Radio Information Service (APRIS, pronounced AY-PRIS).
Sam Schlouch
Senior Communication Director
(309) 794-7833
samschlouch@augustana.edu