September 6, 2011
2011-12 Season - Vikings place eighth at NCC Invite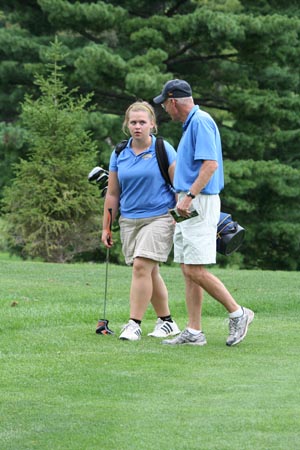 Junior Morgan Wilkinson led Augustana with a 15th place finish and a round of 92 in the North Central Invitational on Tuesday.
NAPERVILLE, Ill. - After being rained out on Saturday at the Mount Mercy Invitational in Cedar Rapids, Iowa, veteran head coach Ron Standley's Augustana women's golf team got back into action. The Vikings finished eighth at the 13-team North Central Cardinal Classic on Tuesday, September 6 at Cress Creek Country Club in Naperville, Illinois.
Led by junior Morgan Wilkinson (Westmont HS, Westmont, Ill.), Augustana recorded a score of 390. Lewis won the event with a total of 350. Wilkinson's score of 92 earned her a 15th place finish individually.
Following close behind was senior captain Brittany Carr (Lincoln Way East HS, Frankfort, Ill.) who shot a 95 and tied for 26th. Rounding out the top six for the Vikings were junior Megan Vandersee (Sterling HS, Sterling,Ill.) with a 101, sophomore Kelly Farina (Normal West HS, Bloomington, Ill.) had a 102, sophomore Jamie Lawrence (Moline HS, Moline Ill.) shot a 108 and sophomore Katelyn Lazar (Williamsville HS, Sherman, Ill.) recorded a 121.
Also shooting well was freshman Kaitlyn Czerwonka (Batavia HS, Batavia Ill.) who had an individual score of 101 to place 39th.
The Vikings next return to action on Thursday, September 8th in Davenport, Iowa when they host the Augustana Invitational at Emeis Golf Course.