September 4, 2011
2011 Season - Vikings 1-1 after 3-0 win over Cornell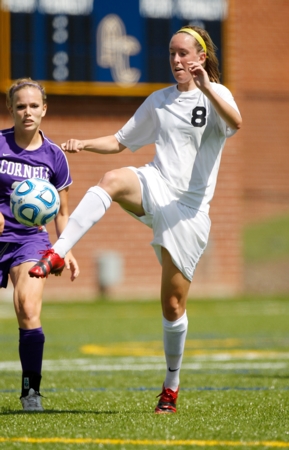 Junior All-American Taylor Moesle scored a pair of goals in Augustana's 3-0 win over Cornell Sunday at Thorson-Lucken Field.
ROCK ISLAND, Ill.-Junior Taylor Moesle (Sandburg HS, Orland Park, Ill.) found the net twice in the first 19 minutes Sunday and Augustana cruised to a 3-0 win over Cornell at Thorson-Lucken Field. The win evened the Vikings' record at 1-1 while Cornell suffered its first loss of the season after a pair of victories.
Moesle's unassisted goal just over 13 minutes in--the first Augustana goal ever at Thorsen-Lucken--gave the Vikings a 1-0 lead. The 2010 first team All-American added another score a little more than five minutes later. Freshman Hannah Klancic (Waubonsie Valley HS, Aurora, Ill.), whose corner kick started the play, and senior Caitlin Winkelman (St. Charles North HS, St. Charles, Ill.) were credited with assists on Moesle's second goal.
With a 2-0 lead at the half, Augustana coach Scott Mejia substituted freely in the second period. Junior Bridget McDermott (Prospect HS, Mt. Prospect, Ill.) played the final 45 minutes in goal, relieving starter Kayla Radloff (West Chicago HS, West Chicago, Ill.).
In the 87th minute, freshman Taylor Navarro (York HS, Elmhurst, Ill.) put the finishing touches on the win with her first collegiate goal.
The Vikings dominated the match, outshooting the Rams by a margin of 30 to two, with half of Augustana's shot being on goal. Both of Cornell's shots were on goal with Radloff recording the Vikings' only two saves. The hosts also piled up a 16-0 advantage in corner kicks.
The Vikings travel to Michigan on Friday and Saturday, September 9-10, to take on Hope and Calvin, respectively. They face Hope at 5:00 p.m. on Friday and take on Calvin at 6:00 p.m. on Saturday.