September 3, 2011
2011 Season - Win over Knox caps Viking Invitational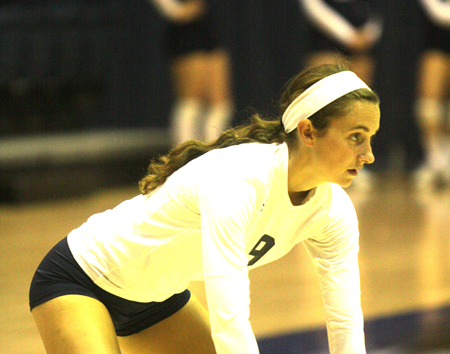 Freshman Samantha Kammerman was impressive in her first significant varsity action Saturday, recording eight kills against Central and five against Greenville.
ROCK ISLAND, Ill.-Augustana wrapped up play in the Viking Invitational Saturday by going 1-2 to push its season record to 2-3. The Vikings started the day by dropping at though five-game match to Central then played a pair of three game matches. Greenville took three straight from the hosts before Augustana bounced back to do the same to Knox.
Central 3, Augustana 2 (23-25; 23-25; 25-18; 25-23; 15-5)
For the second day in a row, the Vikings dropped a match after capturing the first two games as Central came back to pull off the victory. Augustana led most of the way in game one and prevailed 25-23. In game two, the Vikings battled back from an early nine-point deficit to earn another 25-23 win. The Dutch took game three by a 25-18 score to set up what ended up being a pivotal fourth game. They edged the Vikings 25-23 to force a fifth game, which they controlled from the start, posting a 15-5 win.
Augustana freshman Emily Leazer (St. Viator HS, Mt. Prospect, Ill.) recorded team-bests of 13 kills and 26 digs in the match. Senior co-captains Brianna Skeens (Vernon Hills HS, Libertyville, Ill.) and Kelsey Mikula (Coal City HS, Coal City, Ill.) added 12 kills and 45 assists, respectively. Another freshman, Samantha Kammerman (Sherrard HS, Milan, Ill.), was credited with eight kills, as was sophomore Morgan Stittleburg (Black River Falls HS, Black River Falls, Wis.).
Greenville 3, Augustana 0 (25-20; 25-19; 25-10)
Behind a match-high 10 kills from Nicole Schaeffer, the visiting Panthers controlled this match from the outset and finished strong. Greenville took the first two games 25-20 and 25-19, before finishing the hosts off in the final game by a score of 25-10.
Skeens and Kammerman shared the Augustana team lead with five kills each. Mikula racked up 22 assists and freshman Courtney Verrill (Barstow HS, Barstow, Cal.) and sophomore Katrina Colclasure (Tri-Valley HS, Bloomington, Ill.) each had a team-high nine digs.
Augustana 3, Knox 0 (25-16; 25-15; 25-21)
The Vikings came back to take care of Knox in the tournament finale, jumping on the Prairie Fire 25-16 and 25-15 in the first two games before closing them out 25-21 in game three.
Leazer led the hosts with eight kills and added nine digs. Freshman Stephanie Petkovsek (Lisle HS, Lisle, Ill.) recorded a team-high nine assists. Colclasure led with 14 digs. In addition to four kills, Skeens had three solo blocks and assisted on another three. Another bright spot was the return of sophomore Kristen Yerkes (Marist HS, Palos Heights, Ill.), who saw her first action of the season coming off an injury.