September 2, 2011
2011 Season - Augustana splits on first day of Viking Invite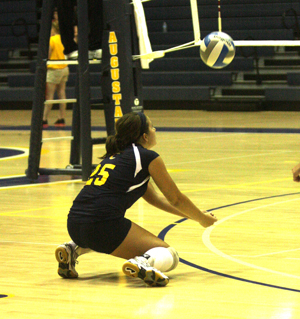 Defensive specialist Katrina Colclasure recorded 42 digs on the day as Augustana split its first two matches of the season. The Vikings fell in five games to Buena Vista before bouncing back to take three in a row from Lincoln Christian at the Viking Invitational.
ROCK ISLAND, Ill.-Coach Jamie Walters' Augustana volleyball team opened the season by going 1-1 on the first day of the Viking Invitational at Carver Center Friday. The Vikings dropped a tough five-game match to Buena Vista in the afternoon, but rebounded do defeat Lincoln Christian in three games Friday evening. The tournament resumes on Saturday, with Walters' crew facing Central at 12 noon, Greenville at 4:00 p.m. and Knox at 6:00 p.m.
Buena Vista 3, Augustana 2 (24-26; 17-25; 25-22; 28-26; 15-13)
After coming from behind to win both of the first two games, Augustana couldn't hold on in the team's first match of the day, falling in five games to Buena Vista in its Viking Invitational opener. The Vikings won the first two games, 26-24 and 25-17 before dropping the next three, including a see-saw 15-13 affair in the deciding fifth game. The Beavers took games three and four by scores of 25-22 and 28-26.
Viking senior Brianna Skeens (Vernon Hills HS, Libertyville, Ill.) had a match-best 18 kills, one more the Buena Vista's Lacie Drennan. Junior Sarah Williams (Rockford Lutheran HS, Loves Park, Ill.) was next for Augustana with eight kills and was in on eight blocks as well. Sophomores Paige Buchanan (Millard North HS, Omaha, Neb.) and Morgan Stittleburg had seven kills each and freshman Emily Leazer (St. Viator HS, Mt. Prospect, Ill.) recorded six kills, 12 digs and a team-best four service aces.
Other statistical highlights for the hosts included 43 assists 10 digs by junior Kelsey Mikula (Coal City HS, Coal City, Ill.), 23 digs for sophomore defensive specialist Katrina Colclasure (Tri-Valley HS, Bloomington, Ill.) and 15 for freshman Julee Morrison (Chaparral HS, Scottsdale, Ariz.).
Augustana 3, Lincoln Christian 0 (25-20; 25-23; 25-22)
The Vikings bounced back in their second match of the day as coach Jamie Walters extended her rotation, playing 13 players in a three-games-to-none win over Lincoln Christian. Augustana took the first game 25-20 and followed it up with wins of 25-23 and 25-21.
Leazer and Buchanan racked up eight kills apiece while Stittleburg recorded six and added a team-high three blocks. Mikula contributed another 31 assists and 12 digs and Colclasure led the way with 19 digs in the match.
Seven of the 13 players who saw action are freshman. In addition to Leazer, Morrison and Kaitlyn O'Connor (Addison Trail HS, Addison, Ill.) had four digs each. Katie Keller (Addison Trail HS, Addison, Ill.) had four kills and a pair of blocks. Courtney Verrill (Barstow HS, Barstow, Cal.), Julia Ponozzo (Morgan Park HS, Chicago, Ill.) and Astin Moravek (Riverside Brookfield HS, Riverside, Ill.) were other first-year players to see action in the win.