September 2, 2011
2011 Season - Jones wins Augie Open in sweltering heat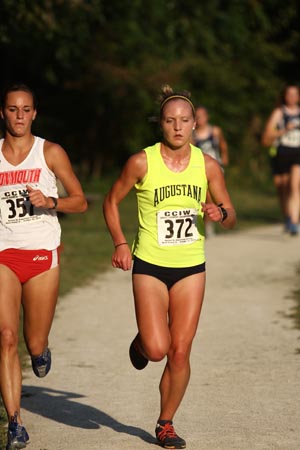 Junior Sarahbeth Jones won the Augie Open on Thursday, September 1 with a time of 15:30 over 4000 meters at Sylvan Island.
MOLINE, Illinois - Augustana junior Sarahbeth Jones (Warren Township HS, Wadsworth, Ill.) overcame ferocious weather conditions to pick up an impressive victory in the Augie Open on Thursday, September 1 at Sylvan Island Park in Moline, Illinois. Jones covered the 4000 meter course in 15:30 to win by 10 seconds over Rachel Bowden of Monmouth.
With temperatures soaring into the mid-90s at race time, Jones led the Vikings in the non-scoring meet which also included Monmouth and St. Ambrose. Three other Augustana runners finished in the top 10 individually besides Jones.
Freshman Rebecca Sund (Palatine HS, Palatine, Ill.) got her first taste of collegiate competition and she placed sixth with a time of 16:01. Junior Tara Bistry (Joliet Catholic HS, Shorewood, Ill.) was eighth in 16:07 and freshman Stephanie Burbidge (Palatine HS, Palatine, Ill.) took ninth in 16:09.
Junior Annie Heifner (Oregon HS, Oregon, Wis.) finished 11th in 16:14 and freshman Jessica Bacon (Rock Island HS, Rock Island, Ill.) was 13th in 16:22. The seventh runner for the Vikings was junior Theresa Coverick (Stagg HS, Palos Park, Ill.) with a time of 16:42 in 15th place.
Augustana will be in competition again on Saturday, September 10 at the Luther All-American Invitational.