The Importance of Being Curious: A Symposium Honoring Mike Nolan
September  02, 2011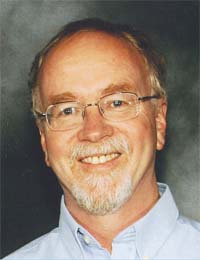 Dr. Michael P. Nolan
Friends, classmates and teachers of the late Dr. Michael P. Nolan will speak at a symposium and luncheon in his honor from 9 a.m.-4 p.m. on Saturday, Oct. 8, 2011. Events will be held in the Olin Center for Technology on campus.
Admission is free, but please RSVP at augustana.edu/nolan.
Dr. Nolan died Sept. 25, 2010, in Rock Island. A 1977 graduate of the college, he first worked at Augustana in 1982, when he served for two years as Resident Director of Seminary Hall. He returned to Augustana in the 1990s, joining the faculty as an adjunct instructor of English and advisor to campus publications. Since then he had served the college as both a teacher and administrator.
Program
8:30 a.m. — Continental breakfast, auditorium lobby
9 a.m. — Introductory remarks
9:15 a.m. — Dag Blanck, "Gazing at the New World: On Being Curious About America"
9:45 a.m. — Diane Machatka, "What We Talk About When We Talk About University Planning"
10:15 a.m. — Break
10:30 a.m. — William Farrow, "Mission Based Finance and Its Role in Creating Better Communities"
11 a.m. — Jeff Baker, "National Energy Policy: The Power of Local Leadership"
11:30 a.m. — Break
11:45 a.m. — Jon Hurty, "The Improvisational Mind and Voice"
12:15 p.m. — Lunch
1:45 p.m. — April Lidinsky & Ken Smith, "The Michiana Chronicles: Inquiries into Everyday Life"
2:15 p.m. — Jason Peters, "Curiosity and the Keg"
2:45 p.m. — Break
3 p.m. — Tom Tredway, "Nolan and Marx and Freud"
3:30 p.m. — Dan Gottschling, "The Why and How of Biological Aging"