9/11 in 2011: A decade of learning and living
August  31, 2011
Augustana College invites the community to 9/11 in 2011: A decade of learning and living, Sept. 9-11.
Several free, on-campus events will honor the memory of those lost on 9/11 and provide opportunities for learning and sharing.
"9/11 was a moment that involved all of us as a community — one that both united and divided us in profound ways," said Augustana's Dr. Stephen Klien, associate professor of communication studies.

"Augustana is a community of learners and teachers alike, and so our event is a wonderful opportunity for the Quad-City community to join us as we learn from each other and consider the way forward from 9/11," Dr. Klien said. "All of us experienced 9/11, and so each of us has something to share as well as room to learn and remember."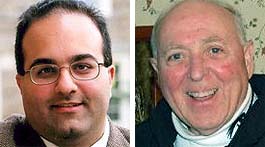 Omid Safi, left, will speak on Sept. 9, and James Kopel on Sept. 10.
On Friday, Sept. 9, Dr. Omid Safi, professor of Islamic studies at the University of North Carolina at Chapel Hill, will share his message "After 9/11: Where Do We Go From Here?" Dr. Safi's address will begin at 7:30 p.m. in the Denkmann Memorial Building (3520 7th Ave.).

At 9 a.m., on Saturday, Sept. 10, a public symposium will be held in the auditorium of the F.W. Olin Center for Educational Technology. Dr. James Kopel of Moline, a price analyst at the Rock Island Arsenal, will discuss "Afghanistan After 9/11: How Does the U.S. Move Forward?"

After Dr. Kopel's address, three panels of Augustana faculty will discuss several topics at 10 a.m., including politics, religious ethics, media, and personal experiences of life after 9/11.

At 3 p.m., on Sunday, Sept. 11, Augustana will host the Tenth Anniversary Interfaith Commemoration in Centennial Hall. Along with prayer and music, Najeeba Syeed-Miller, assistant professor of interreligious studies at Claremont (Calif.) School of Theology, will present a keynote address. Religious leaders from Jewish, Catholic, Muslim, Greek Orthodox, Hindu, Protestant and other faiths worked together to plan this event.

Friday and Saturday's events are sponsored and organized by the Institute for Leadership and Service, part of Augustana's Community Engagement Center, as well as Academic Affairs, the President's Office, and the Office of Multicultural Services. Sunday's commemoration is an effort of Churches United of the Quad Cities Area and the Augustana's Campus Ministries
Sam Schlouch
Senior Communication Director
(309) 794-7833
samschlouch@augustana.edu