2010-11 Season - Paul Del Vecchio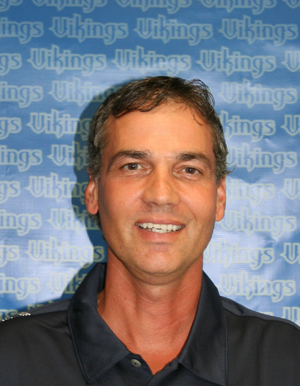 Paul Del Vecchio was named the head men's golf coach at Augustana in August of 2011. Del Vecchio replaced Grey Giovanine, who stepped aside after 12 years to concentrate full time on his role as head coach of the Viking men's basketball program. For two seasons (2009-10 and 2010-11), Del Vecchio served as a volunteer assistant under Giovanine.
Augustana Director of Athletics Mike Zapolski explained the change and expressed confidence in a smooth transition. "In addition to the on-going recruitment process, men's golf at the NCAA Division III level has evolved into a significant fall and spring schedule. As a result, we made a strategic decision to make the necessary changes that would create a better situation for everyone involved, particularly our student-athletes. I am thankful for the service that Grey has provided the Augustana men's golf program the past 12 years and the opportunities that he has provided Paul the last two seasons. It will be a seamless transition, and Paul will be able to devote the necessary energy and time toward our men's golf student-athletes."
Prior to coming to Augustana, Del Vecchio spent two years as a teaching professional at Cannon Flats Driving Range on the Rock Island Arsenal. He was the head professional at Pinnacle Country Club for seven years after holding similar positions at Fox Run Golf Course in West Branch, Iowa and Brown Deer Golf Club in Coralville, Iowa. In addition, he's held assistant golf pro positions at Short Hills Country Club in East Moline, Illinois and Arthur Pack and Sun City Vistoso Golf Courses in Tucson, Arizona.
"I am excited with the challenge," said Del Vecchio. "I enjoyed working with the student-athletes from Augustana over the past two years and it has been nice to see some of them develop. Recruiting will be the key as we attempt to elevate the program.
Del Vecchio, a Davenport, Iowa native, played collegiately at Pima Community College in Tucson. He's been a Class A member of the PGA since 1995 and competed in two Ben Hogan tour events as a professional. He recorded six top 20 finishes in mini-tour events as well. He currently owns a pair of Anytime Fitness health clubs in the Quad-Cities and resides in Bettendorf, Iowa with his wife Heather and children Andrew, Sophia and Spencer.
"I believe in the simple things and working on the short game," he said when asked about his coaching philosophy. "Everybody likes to hit the ball a long way but it is what you do around the green that can really translate into lowering your score. I am a firm believer in repetition in practice and that is what we will work on."
Zapolski added about the new Viking head man, "Paul has an extensive golf background, and his long-time affiliation with the PGA and many years of teaching experience will be a tremendous asset for our current players while serving as an attractive bonus in the recruiting process. After volunteering his time with us the last two years, Paul is very familiar with Augustana and has an exciting vision on how he wants to build our men's golf program."