August 28, 2011
2011-12 Season - Wilkinson's 82 leads Vikings to second place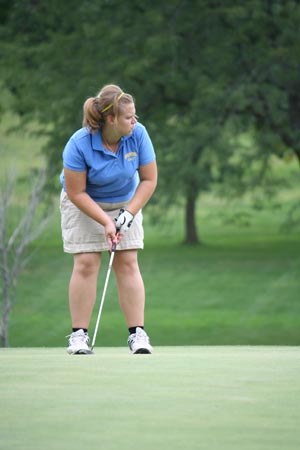 Junior Morgan Wilkinson shot an 82 and finished third individually to help lead Augustana to a second place finish in the Augie Fall Quadrangular on Sunday, August 28 at Emeis Golf Course in Davenport, Iowa.
DAVENPORT, Iowa - Coach Ron Standley's Augustana women's golf team opened the 2011 season by taking second place at Sunday's Augustana Quadrangular at Emeis Golf Course. Viterbo claimed first place with a score of 328. The Vikings finished 21 strokes back at 349. Mt. Mercy, with a 354, and Monmouth, with a 388, rounded out the field.
Augustana was led by junior Morgan Wilkinson (Westmont HS, Westmont, Ill.) who shot a 40 on the front nine and 42 on the back nine to finish third individually with an 82. Viterbo's Lauren Lindsley and Chelsey McCoy shot 77 and 81, respectively, to finish first and second.
Senior Brittany Carr (Lincoln-Way East, Frankfort, Ill.) was next best for the Vikings, tying for fourth overall with a round of 83. Sophomore Katelyn Lazar (Williamsville HS, Sherman, Ill.) shot an 85 to finish seventh individually. Other Augustana competitors included sophomores Dena Capitani (Hinsdale Central HS, Hinsdale, Ill.) and Jamie Lawrence (Moline HS, Moline, Ill.), junior Megan Vandersee (Sterling HS, Sterling, Ill.) and freshman Kaitlyn Czerwonka (Batavia HS, Batavia, Ill.). Capitani and Lawrence each shot 90 to tie for 13th. Vandersee's round of 94 earned her a tie for 16th and Czerwonka tied for 22nd with a 96.
Next Saturday, September 3, the Vikings will compete at the Mt. Mercy Invitational. They're scheduled to tee off at 9:00 a.m. at Hunter's Ridge Golf Course in Marion, Iowa.