August 27, 2011
2011-12 Season - Vikings fall to Illinois Wesleyan and Grinnell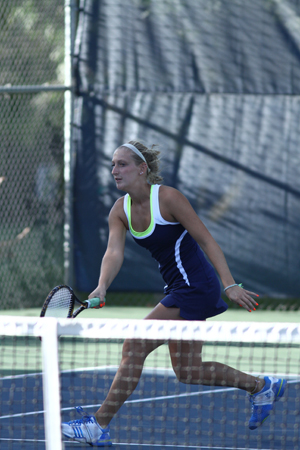 Kim Sawyer defeats Illinois Wesleyan and Grinnell to open the season.
ILLINOIS WESLEYAN 7, AUGUSTANA 2
ROCK ISLAND, Illinois-Augustana began its 2011-12 women's tennis season with a tough 7-2 loss against College Conference of Illinois & Wisconsin opponent Illinois Wesleyan on Saturday, August 27 at home. The Vikings went down early as they were swept in doubles.
The first doubles combination of Kim Sawyer (Batavia HS, Batavia, Ill.) and Meghan Wethington (Geneseo HS, Geneseo, Ill.) fell to the Titans 8-2. Second doubles went up early getting off to a 4-1 lead, while they aggressively attacked the net. However, the Titans changed styles at that point and aggressively pressed the net themselves to earn the win 8-4. At third doubles the team of Emily Kaczmarek (Glenbard South HS, Lombard, Ill.) and Chelsea Lavin (Downers Grove South HS, Downers Grove, Ill.) were narrowly defeated 9-7. After getting down 7-4 Lavin and Kaczmarek fought back to draw even but were thwarted in the end.
Singles began on a much different note as the Vikings won the first sets in three of the six matches taking the first sets in first, third, and fourth singles. However, the Titans kept fighting and took the second set in all three matches. In the decisive third set Sawyer defeated Andrea Kerwin at first singles with a score of 6-4, 3-6, 6-3, while third singles player Wethington fell in the third set to Lauren Drawbridge 6-3, 2-6, 3-6. Because the match was already decided, fourth singles played a 10 point tiebreaker in the third set and Krista Panko (Geneva HS, Geneva, Ill.) was defeated in a hotly contested match 6-1, 4-6, 6-10. Fighting her way to 10 point tie break victory was Mariah Bardo (Sterling HS, Sterling, Ill.) with a 3-6, 7-5, 10-8 victory.
GRINNELL 6, AUGUSTANA 1
ROCK ISLAND, Ill.-The Vikings fell in their second match of the season to Grinnell on Saturday afternoon at the Carver Courts. Augustana lost 6-1 with the final two matches suspended because of darkness.
In doubles, the Vikings came out more aggressive than their previous match. The first doubles team of Sawyer and Wethington took an early 1-0 lead but lost an early break to fall behind 2-5. After some tremendous rallies and winners from both sides, Augustana never broke back and eventually fell 8-3. Second doubles proved to be the match of the day. The team of Panko and Brittany Reece (Neuqua Valley HS, Naperville, Ill.) went back and forth with Grinnell holding serve to lead 5-4. After a hold by Reece, the duo hit several deep, punishing returns to take a commanding 7-4 lead. The Pioneers, however, were not finished and used a mistake free next few games to square the match at seven and eventually take the set 9-7.
In singles, first singles Sawyer fell down early in the first set 2-5 before coming back to tighten the set at 4-5. She would lose the set 4-6 but Sawyer aggressively attacked the ball to take the second set and deciding tiebreaker wining the match 4-6, 6-1, 10-6. Reece battled at second singles along with teammate Panko at fourth before their matches were suspended due to darkness.
The Vikings travel to the Whitewater invite next Saturday before returning home for a double header next Monday against Millikin and Loras.