August 24, 2011
2011 Season - Pre-season poll has Vikings ranked 20th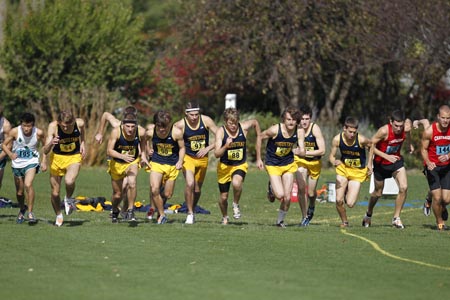 The Augustana Vikings will open the 2011 men's cross country season ranked 20th in the NCAA Division III national poll.
With less than a week before the opening of the 2011 men's cross country season, the first NCAA Division III national poll has been release and Augustana is already drawing national recognition. The Vikings of veteran head coach Paul Olsen are ranked 20 th in the preseason ranking, which is conducted by the U.S. Track & Field/Cross Country Coaches Association.
A year ago, Augustana was ranked 20 th in the final regular season poll heading into the NCAA Midwest Regional. After an eighth place finish in the regional meet, the Vikings slipped to 331 st in the final national poll. With six runners from last year's top seven returning, optimism is high in the Augustana camp.
Senior Mike Tisza (Hersey HS, Prospect Heights, Ill.) won the 5000 in the College Conference of Illinois & Wisconsin track meet last spring and he leads a veteran group under the tutelage of Paul Olsen, who will be entering his 46 th season as the Vikings' head coach. Augustana will begin the 2011 season on Thursday, September 1 with the Early Opener at Sylvan Island Park in Moline, Illinois. The next night, Friday, September 2, the Vikings will compete in the Western Illinois Invitational in Macomb, Illinois.
The pre-season poll has a huge representation from the Midwest Region, where Augustana will compete for one of five spots in the NCAA Division III national meet. Led by North Central, which is the number one ranked team in the nation, a total of seven teams from the Midwest Region have cracked the top 20.
2011 NCAA DIVISION III MIDWEST NATIONAL CROSS COUNTRY POLL
conducted by the U.S. Track & Field and Cross Country Coaches Association (USTFCCCA)
as of 08/24/11
| | | | | | |
| --- | --- | --- | --- | --- | --- |
| RANK | SCHOOL | POINTS | REGION | CONFERENCE | LAST WEEK |
| 1. | North Central (7) | 279 | Midwest | CCIW | |
| 2. | Calvin (1) | 267 | Great Lakes | MIAA | |
| 3. | St. Lawrence | 258 | Atlantic | Liberty | |
| 4. | Haverford | 249 | Centennial | Mideast | |
| 5. | Washington | 244 | Midwest | UAA | |
| 6. | Dickinson | 241 | Mideast | Centennial | |
| 7. | Williams | 231 | Northeast | NESCAC | |
| 8. | SUNY-Geneseo | 225 | Atlantic | SUNYAC | |
| 9. | Wisconsin-LaCrosse | 220 | Midwest | WIAC | |
| 10. | Middlebury | 195 | Northeast | NESCAC | |
| 11. | NYU | 188 | Atlantic | UAA | |
| 12. | Elizabethtown | 179 | Mideast | Middle Atlantic | |
| 13. | Wisconsin-Oshkosh | 178 | Midwest | WIAC | |
| 14. | Wabash | 175 | Great Lakes | North Coast | |
| 15. | Wheaton | 164 | Midwest | CCIW | |
| 16. | Wisconsin-Stevens Point | 150 | Midwest | WIAC | |
| 17. | M.I.T. | 143 | Northeast | NEWMAC | |
| 18. | Hamline | 132 | Central | Minnesota Intercollegiate | |
| 19. | Bates | 124 | Northeast | NESCAC | |
| 20. | AUGUSTANA | 106 | Midwest | CCIW | |
(first place votes in parentheses)