August 21, 2011
2011-12 Season - Vikings look to build on record breaking season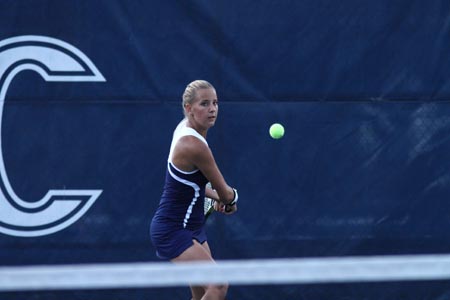 Senior captain Brittany Reece and the Augustana Vikings are looking forward to the 2011-12 women's tennis season. The Vikings were 20-9 a year ago and Reece was 12-7 in singles and 16-9 in doubles play.
There will be a new look for the Augustana women's tennis program in 2011 as Jon Miedema takes over the reins from Adam Strand. Miedema was hired in June to replace Strand, who resigned after compiling a record of 71-58 in five seasons, is anxious to continue with the Vikings' recent success.
"I am really impressed with how prepared the players were when we started our pre-season," said Miedema, who was the head coach at Grace Bible College in Grand Rapids, Michigan last year. "There is a lot of depth and I believe that will be our strength this year."
Augustana set a school record in 2010-11 with an overall record of 20-9 and a College Conference of Illinois & Wisconsin mark of 4-2. The Vikings finished second in the CCIW tournament with 37 points and placed second in the league's automatic qualifying tournament in May. The runner-up finish in the conference standings is Augustana's highest place finish since 1997. The 20 victories broke the school record of 19 set by Larry Flaherty's 1993-94 unit that finished with a 19-3 mark. At the end of the season the Vikings were ranked 14th in the NCAA Division III Central Region.
"This is a program that has enjoyed a good deal of success recently and our goal as a team is to continue that," said Miedema. "We expect to do well and build on last year. We are anticipating a great season and so far I have seen the kind of effort that is necessary to achieve that."
Sophomore Kim Sawyer (Batavia HS, Batavia, Ill.) should slide into the number position in 2011-12 after splitting time between number one and number two last year. She was 29-7 overall and set a new school record for victories in a single season. She was also 20-9 in doubles while playing exclusively at number one but she will be working with a new partner this year. Shannen McNamara, who posted a 25-9 record while playing at number one and two singles, decided to transfer heading into her sophomore season.
Senior captain Brittany Reece (Neuqua Valley HS, Naperville, Ill.) and juniors Meghan Wethington (Geneseo HS, Geneseo, Ill.) and Krista Panko (Geneva HS, Geneva, Ill.) should be in line for the next three positions. Reece was 12-7 a year ago in singles while playing mostly at five and six. Wethington was 9-4 in limited action and Panko was 17-14 while splitting time between four and five singles. Reece and Panko combined to go 11-3 in doubles with the majority of that work coming at number three.
Sophomores Mariah Bardo (Sterling HS, Sterling, Ill.), Emily Kaczmarek (Glenbard South HS, Lombard, Ill.) and Caitee Margenthaler (Moline HS, Moline, Ill.) have looked good in the pre-season. Kaczmarek was 5-2 in singles last year while Bardo was 1-0 and Margenthaler 1-1. Also in the mix will be seniors Julie Wach (Marist HS, Chicago, Ill.) and Alyssa Quitschau (Jacobs HS, Algonquin, Ill.). Quitschau was 3-0 in singles while Wach was 1-0 in doubles.
"When a team or an individual has had success, it becomes expected," said Miedema. "One thing we need to be aware of as a team is that we need to continue working and pushing to get better."
Miedema knows that the schedule will be a challenge once again. "We play some very good teams and we will need to be ready each time we take the court," said Miedema. "We did lose a very good player in Shannen McNamara but it is up to the players on the team to step up and help fill the void."