Muir receives faculty funding for turtle research
First professor to be named Dr. Larry P. Jones Endowed Fellow in the Natural Sciences
August  18, 2011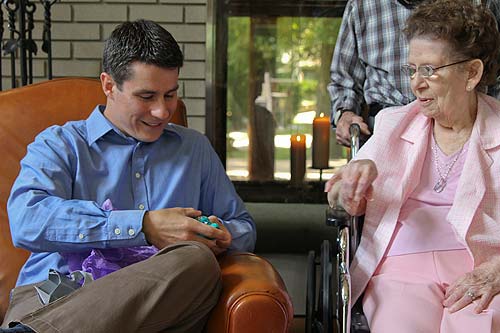 Ruby Griffin, mother of the late Dr. Larry Jones '65, presents Dr. Tim Muir with one of the hundreds of turtle figurines she received from her son during his career. (Photo by Augustana Photo Bureau/Mark Marogil '12)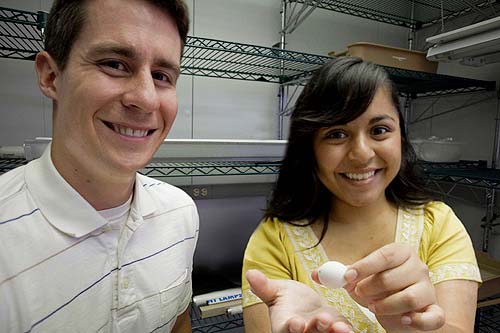 Dr. Tim Muir and his research assistant Manisha Kumar '13 retrieved eggs from pregnant turtles in the slough this summer. Kumar is a biology/pre-med major. (Photo by Marla Alvarado Neuerburg)
---
Ruby Griffin's son, Dr. Larry Jones '65, always brought home a turtle figurine for her from his many travels as a biology professor and researcher at the University of Texas at El Paso. She presented Augustana's Dr. Tim Muir with one of her treasured ceramic turtles at a reception honoring Dr. Muir as the inaugural recipient of a research fund established by her son before he passed away last October.
"It's like it was just supposed to be," Griffin told Dr. Muir as he unwrapped his gift.
The turtle connection between Dr. Muir and Jones' family is remarkable. Dr. Muir, the first professor to be named the Dr. Larry P. Jones Endowed Fellow in the Natural Sciences, has been investigating for several years how turtle hatchlings survive the extreme cold winters in the upper Midwest.
When frozen, hatchling painted turtles can survive temperatures as low as 25°F, but how do they survive even colder temperatures? The painted turtles' alternative cold-hardiness strategy is to avoid freezing by supercooling. Supercooling is when body fluids cool below the freezing point without solidifying or crystallizing. The supercooling capacity of hatchling painted turtles apparently is the best of any vertebrate, as these turtles may cool to -4°F before spontaneously freezing.
Funding from the Jones fellowship will support Dr. Muir and his research assistant, biology/pre-med major Manisha Kumar '13, in their investigation of hatchling painted turtles' ability to survive freezing temperatures. He plans to purchase a sophisticated "cold bath" machine that will be used to create a typical Quad-Cities winter for the turtles in the comfort of their Hanson Hall of Science lab.
"Presently, the medical community is not able to freeze single human organs and have them viable for transplant after thawing," he explained. "These hatchling turtles — and a host of other freeze-tolerant animals — can recover from having every organ in their bodies frozen simultaneously. Uncovering the biochemical and physiological mechanisms underlying that remarkable ability will undoubtedly inform new methods in medical cryopreservation."
Enduring bonds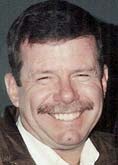 Dr. Larry Jones '65
---
After earning his bachelor's from Augustana in 1965, Larry Jones received his master's from Iowa State University in 1968 and doctorate from Oregon State University in 1972. He joined the faculty of the Department of Biological Sciences at the University of Texas at El Paso (UTEP) later that same year. In addition to teaching, Dr. Jones served as the associate dean of the College of Science.
His legacy as a teacher, researcher and mentor at UTEP lives on through the people he inspired and the Medical Professions Institute he founded in 2002 to prepare students for careers in the medical professions. Medical school acceptances among UTEP graduates doubled during Dr. Jones' time as the director of the institute. He retired from the university in 2008.
Dr. Lillian Mayberry, Dr. Jones' colleague and friend for more than 38 years, recalls the enduring bond he forged with his students. "Larry respected all students and was committed to helping each one develop to their fullest potential, just as faculty at Augustana had helped him," she said.
UTEP College of Science colleague Jeanie Webb fondly remembers Dr. Jones as a thoughtful mentor to faculty and students alike. "By example, but never by lecturing, Larry taught me to wait and consider before making a snap judgment about people, and to first take a compassionate look at a situation," she said.
Dr. Jones' connection to Augustana College remained strong over the course of his life. Dr. Mayberry recalled that "Larry spoke often of how his undergraduate experiences at Augustana College helped lay the foundation for his teaching and research philosophy and how it influenced the way he interacted with students at UTEP."
Through the faculty research fellowship Dr. Jones established, current and future Augustana faculty will be able to continue their research and help students gain valuable professor-led research experience. Specifically, the fellowship provides funding support for a tenure-track faculty member to engage in summer research or other scholarly activities. The fellowship will rotate on a yearly basis among tenure-track faculty in the college's Natural Sciences Division, preferably those teaching biology. In addition, Jones established a generous scholarship for students majoring in biology or pre-medicine.
The small turtle figurine Ruby Griffin presented Dr. Muir as a gift seems to symbolize something larger, a bond between one dedicated professor and another, and even more. For Griffin, turtles are a reminder of her son and a lasting source of inspiration. And so, as Dr. Muir unwrapped the gift, she told him, in so many words, that she hoped he would keep the turtle close by and pull it out whenever he needed some inspiration of his own.