Augustana Choir alumni just keep singing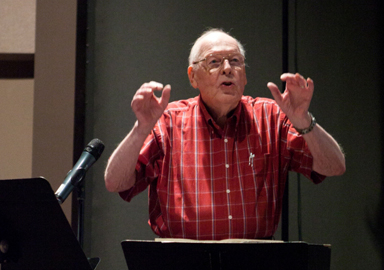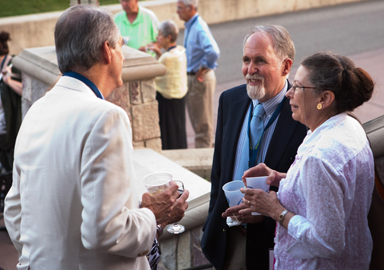 Dr. Roger Wesby, conductor of the Augustana Choir from 1993-1996, and his wife, Barbara, share Augustana memories with a choir alumnus.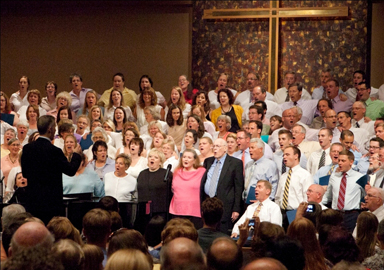 Dr. Jon Hurty conducts the Augustana 2011 Reunion Choir, including former choir conductor Don Morrison (front row), as they sing "By the Mighty Mississippi."

Earlier this summer, the Augustana Choir celebrated its 80th anniversary in Naperville, Ill., where almost 300 choir alumni gathered to sing together once again. Graduating classes from 1944 to present were represented, and alumni traveled from as far away as Finland and many U.S. states to participate.
Dr. Henry Veld founded the Augustana Choir in 1931, and its first performance that year was in Chicago's Orchestra Hall. Since then, the choir has traveled the globe and performed in some of the world's finest concert halls. It is regarded by many as one of the finest collegiate choral ensembles in the United States.
The 2011 Reunion Choir was conducted by all of its directors since Dr. Veld retired in 1966-Don Morrison (1966-1993), Dr. Roger Wesby (1993-1996) and Dr. Jon Hurty (1996-present). Each brought his own unique sense of humor, style and conducting experience to enhance the weekend for all of the singers.
The festivities began on Friday evening with a catered reception. On Saturday, laughter and tears-but mostly music-filled Good Shepherd Lutheran Church's sanctuary as the choir rehearsed and prepared for a Saturday evening concert. More than 600 family and friends joined the reunion celebration and attended the concert that included many of the choir's favorite pieces.
The performance ended with an emotional rendition of "By the Mighty Mississippi," but the singing didn't end there. The music continued after the concert with small groups of alumni singing their own favorites without music, taking them back to another time when they enjoyed the daily magic of being members of the Augustana Choir.
Planning for this reunion began in early 2010 and the committee built on the success of a similar choir reunion held in Oak Brook, Ill., in 2000. Augustana's Office of Alumni and Parent Relations provided the support to make this a most memorable event, and alumni left Naperville at the end of the weekend saying, "We can't wait until the next reunion!"
By Brian Warner '80
Reunion Planning Committee member
Augustana Choir alumnus