August 14, 2011
2011 Season - Returning starters fuel Mejia's optimism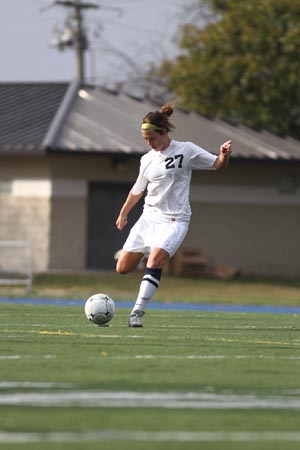 Senior Caitlin Winkelman is a three year starter in the midfield and currently ranks 10th on the Vikings' all-time career list with 21 goals scored.
Scott Mejia has been the head women's soccer coach at Augustana since 2001. In that 10 year stretch his teams have fashioned an impressive 137-49-5 record and participated in the NCAA Division III national tournament four times (2005, 06, 09, 10). With that kind of success under his belt, Mejia eagerly anticipates the opening of the 2011 season as his team returns all 11 starters from a unit that went 13-2-5 in 2010.
"I would say that we are cautiously optimistic," said Mejia, who was also the men's coach at Augustana from 2001-06 and posted a record of 68-37-6 during that time frame. "All the pieces are in place for us to be very good. We believe it is going to come down to a desire to be great. Will we be willing to do the little things that will set us apart?"
A quick check of the year-by-year records would take one back to 2003 to find the last time the Vikings lost at least five matches in a single season. Over the last two years they have compiled an outstanding 33-4-6 record overall and an 11-1-2 mark in the College Conference of Illinois & Wisconsin. Still, Mejia acknowledges that the five ties suffered last year serve as a reminder to his team that there is some unfinished business in 2011.
"It is true that we only lost twice last year (4-1 at Wheaton late in the regular season and 2-1 to Carleton in the first round of the NCAA tournament)," said Mejia, who has been the CCIW's "Coach of the Year" on both the men's and women's side of the ledger. "Our kids know, however, that the five ties didn't have to happen if we had taken care of the little things."
That will be the focus this year and with all 11 starters returning, the expectations around the Augustana program are high. One of the points of emphasis this year will be goal production. A year ago, the Vikings scored 48 goals in 20 matches, an average of 2.4 per game. Mejia thinks that number could have been higher.
"There is no question that goal production needs to improve," said Mejia. "Our players know that and we will work at making that a priority. It is not just a matter of scoring more goals but of converting on opportunities at crucial times in tight matches."
One player who could go a long way in increasing that production is junior Taylor Moesle (Carl Sandburg HS, Orland Park, Ill.). Moesle was a first team NCAA Division III All-American selection a year ago after she led the team in scoring with 12 goals and four assists for a total of 28 points. She was also a first team all-conference selection. Moesle is tied for 10th on the school's all-time list for career goals scored with 21 and the 12 goals and 28 points from a year ago were both ninth best on Augustana's single season list.
She will be joined in the midfield by seniors Erin Coulson (Neuqua Valley HS, Naperville, Ill. – now resides in Hermosa Beach, Calif.), Ashley Higuchi (Smoky Hill HS, Aurora, Colo.), Caitlin Winkelman (St. Charles North HS, St. Charles, Ill.) and junior Kirsten Boesen (Normal West HS, Gibson City, Ill.). Winkelman, Higuchi and Boesen were all second team all-conference selections a year ago.
Coulson scored six goals and tallied three assists in 2010 for 15 total points. She is seventh on the school's career goals scored list with 25 and 10th in total points with 56. Higuchi had six goals and four assists last year and her 11 career assists rank her ninth on the all-time list. Winkelman had four goals and three assists for 11 total points and she is tied for 10th on the all-time list in terms of goals scored with 21. Boesen, a CoSIDA Academic All-District selection last year, is more of a defensive midfielder.
Senior Jenna Doyle (Regis Jesuit HS, Parker, Colo.) and junior Morgan Olsen (Downers Grove North HS, Woodridge, Ill.) will see time in the midfield as could senior Holly Timm (Northglenn HS, Denver, Colo.).
Senior Jessica Dodds (Linn-Mar HS, Marion, Iowa) is the returning starter at the forward position. She scored five goals and had two assists in 2010 and as a freshman she led the team in goals scored with 11 in the 2008 season. She will get competition from sophomores Briana Clark (Nazareth Academy, LaGrange, Ill.) and Allison Frickman (Loveland HS, Loveland, Colo.) and freshman Hannah Klancic (Waubonsie Valley HS, Aurora, Ill.).
Defense has long been a consistent staple of Augustana teams under Mejia's tutelage. That shouldn't change in 2011 and the backfield quartet of seniors Megan Mummert (Crawfordsville HS, Crawfordsville, Ind.), Mary Pat Holtrop (St. Charles North HS, St. Charles, Ill.) and Kelly Johnson (Homewood-Flossmoor HS, Flossmoor, Ill.) and sophomore Margaret Hoscheit (St. Charles East HS, St. Charles, Ill.) returns intact. A year ago the Vikings only allowed a total of 11 goals in 20 matches and 1915 minutes played for a goals-against-average of 0.52. Augustana posted 14 shutouts, including a streak of eight straight to start the season. Mummert was a first team all-conference and all-region selection.
Junior Courtney Linn (Pleasant Valley HS, Bettendorf, Iowa) and sophomores Bridget Shrigley (Wheaton-Warrenville South HS, Wheaton, Ill.) and Merrill Clayton (Legacy HS, Westminster, Colo.) will all be pressing for playing time.
Senior Kayla Radloff (West Chicago HS, West Chicago, Ill.) was an All-American as a sophomore and last year was all-conference and all-region. She gave up 11 goals in 20 matches and 1,774 minutes for a goals-against-average of 0.56. Her backup will be junior Bridget McDermott (Prospect HS, Mt. Prospect, Ill.).
The Vikings benefitted greatly from a trip to Europe this past June and Mejia thinks the lessons learned will pay dividends this season.
"I think we grew quite a bit during our trip," he said. "We know exactly what we need to work on and this is such an experienced and veteran group that they don't need to be told twice."
Although the team is back nearly intact from last year, there will be one huge change at home games in 2011. Augustana will open up the newly constructed Thorson-Lucken Field with the September 1 home opener against Wartburg. The facility, which has synthetic turf, lights and seating for 800, occupies the ground just South of the PepsiCo Recreation Center where the Vikings played until the 2002 season when they moved to Ericson Field.
"The new field has everybody excited," said Mejia. "Our players are anxious to get on it and it will certainly help in recruiting."