August 8, 2011
2011 Season - Football Media Day set for August 16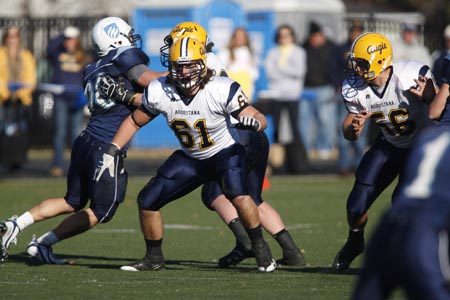 Kelly Clennon (#61), the lone returning starter on the offensive line, and his Augustana teammates will have their annual Football Media Day on Tuesday, August 16 at 1:30 p.m. at Ericson Field.
The Augustana Vikings football team will host its annual "Media Day" on Tuesday, August 16 at Ericson Field. The festivities will begin at 1:30 p.m. First year head coach Rob Cushman and the Augustana players will be available for pictures and interviews. Please direct any special requests to Dave Wrath, associate director of athletics/media & alumni relations.
The Vikings, who were 6-4 a year ago and 4-3 in the College Conference of Illinois & Wisconsin, report to campus on Tuesday, August 9. The pre-season camp begins on Wednesday, August 10 in preparation for the season opening game on Thursday, September 1 at home against the University of Dubuque at 7:00 p.m. Cushman is expecting to welcome over 135 players to the Augustana campus in preparation for the 2011 campaign.