August 1, 2011
2010-11 Season - Valparaiso exhibition will tip off 2011-12 season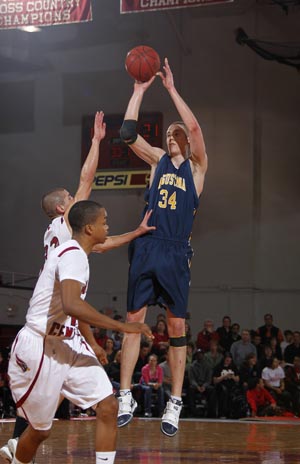 Bryant Voiles and his Augustana teammates will open the 2011-12 men's basketball season with an exhibition game at NCAA Division I Valparaiso on Thursday, November 3.
The Augustana men's basketball team will get an early start on the 2011-12 season with a November 3 date at NCAA Division I Valparaiso University. The exhibition contest is scheduled for 7:05 CDT and will take place 12 days before the Vikings' regular season opener at home against Aurora.
Valparaiso is led by first-year head coach Bryce Drew, who is replacing his father Homer—who led the team for 22 seasons—on the Crusader bench. The younger Drew hit the iconic buzzer-beater that gave Valparaiso a first round victory over Ole Miss in the 1998 NCAA tournament and went on to a six-year playing career in the NBA. In addition, former University of Illinois standout Roger Powell, a starter on the Illini's 2005 national runner-up squad, is a member of Drew's staff.
The Crusaders went 23-12 last year, including a win over two-time national runner-up Butler, and finished fourth in the Horizon League, just one game out of a tie for first place. They were rewarded with a berth in the CollegeInsider.com post-season tournament. Eight players from that team return for 2011-12 and they'll be joined by a cast of newcomers which includes transfers from Ole Miss and Virginia Tech.
This will be the sixth contest against an NCAA Division I opponent during coach Grey Giovanine's tenure at Augustana. The Vikings played regular season contests at Western Illinois in 2000-01 (a 76-71 win), Eastern Illinois in 2001-02 (an 87-71 loss), Southern Illinois in 2004-05 (an 89-53 loss) and Gonzaga in 2009-10 (a 79-40 loss), as well as an exhibition game at Northern Illinois in 2007-08 which the Vikings lost 77-64.
Augustana was 27-4 in 2010-11 and won the College Conference of Illinois & Wisconsin regular season title with an 11-3 mark and captured the CCIW tournament crown as well. The Vikings advanced to the Elite Eight of the NCAA Division III national tournament, losing to eventual champion St. Thomas. Giovanine's team ended the year ranked seventh in the nation in the final D3hoops.com poll.