July 31, 2011
2011-12 Season - Zapolski named chair of NCAA Men's Tennis Committee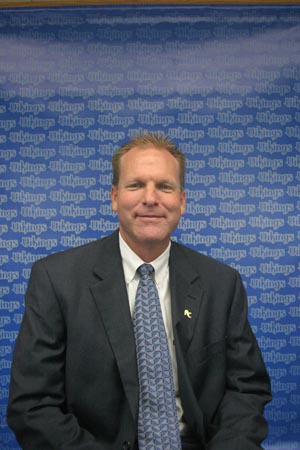 Mike Zapolski, director of athletics, has been named the chair of the NCAA Division III Men's Tennis Championship Committee.
Augustana Director of Athletics Mike Zapolski has been selected chairman of the NCAA Division III Men's Tennis Championship Committee.
Zapolski's tenure as chair of the committee begins on September 1. In that role, he will oversee the group that develops policies and procedures governing the administration of the NCAA Division III Men's Tennis Tournament, including future site selections as well as evaluation and selection of the participating teams.
Zapolski began his tenure as the committee's Central Region representative in 2010. Previously, he had served as a member of the NCAA Division III Men's Basketball Committee from 2007 to 2010.
"It is a great honor to be selected to chair this NCAA sport committee," Zapolski said. "I am looking forward to working with the committee, the regional advisory committees, NCAA staff and the coaches and administrators in NCAA Division III to further enhance the championship experience for our men's tennis student-athletes."
As chair, Zapolski will oversee the process of selecting sites and teams for the 2012 NCAA Division III Championships, including pairings for the post-season men's tennis bracket. During the season, he will lead the process of determining regional rankings, on-site administration of NCAA sectional sites as well as the combined six-day men's and women's team and individual championships slated for next May in Cary, North Carolina, which includes eight teams, a 32-player
singles draw and 16-team doubles bracket for both genders.
"I am fortunate to be working with several outstanding administrators and coaches on this committee to build on the progress which has been made over the last few years in producing a top-quality championship," Zapolski said. "I have thoroughly enjoyed the networking opportunities from NCAA committee service, as it has afforded valuable relationship
building with administrators and coaches at institutions throughout the country and staff members at the national office in Indianapolis."
Zapolski has a broad base of experience in tennis. Prior to becoming Augustana's Director of Athletics in 2008, Zapolski spent 20 years working in various capacities at Pepperdine, an NCAA Division I school in Malibu, California, noted for its nationally ranked men's and women's programs. During his tenure at Pepperdine, the school hosted the NCAA Division I Women's Tennis Championships in both 1995 and 2000, numerous NCAA first and second round matches for both genders and several West Coast Conference Championships. Zapolski had sport oversight responsibilities for the Pepperdine's men's tennis program from 2000-2003.