Dr. Mel Peterson '53 remembered for his dedication
July  18, 2011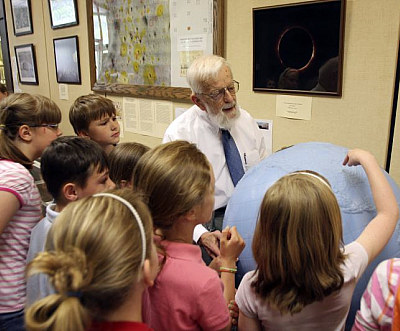 Augustana professor emeritus Dr. Mel Peterson conducts a tour at the John Deere Planetarium. (2009 photo)
'Stars align for Peterson'
Described by one colleague as a "gift to the campus," Dr. Mel Peterson '53 passed away Saturday while traveling in Europe.
After attending the Kiwanis International Convention in Geneva, Switzerland, Dr. Peterson and his wife, Betty, continued on to Berlin, Germany, to visit family members. When he arrived in Berlin, he was admitted to a hospital for heart-related issues.
Dr. Peterson would have been 81 on July 30.
"Mel Peterson will be remembered at Augustana not only for his long years of solid work in the chemistry department, but for his wide range of other interests — from spring breaks hiking with students in the Grand Canyon to his collection of western art," said Augustana President Emeritus Dr. Thomas Tredway '57. "He was truly a liberal arts person, as well as a trained scientist."
Current Augustana President Steve Bahls also noted Dr. Peterson's broad interest in science: "Mel Peterson embodied much of what Augustana College has always sought to inspire in its graduates. He led a life defined by service to others and leadership within the communities of which he was a part. He also had an appetite for discovery that led him to wear down boundaries between scientific disciplines and made him adept at geology, biology, astronomy and
physics as well as chemistry."
Dr. Peterson taught chemistry at Augustana for four decades (1958-1998) and shared his passion for astronomy long after he officially retired from teaching. He was present when the John Deere Planetarium opened its doors in 1969 and was proud to serve as planetarium director from 1988 to 1999. Continuing on as director emeritus, Dr. Peterson was the facility's leading volunteer.
"Mel's continued commitment to the planetarium and its community programs was admirable," said longtime colleague Susan Kornreich Wolf, associate curator of the Fryxell Geology Museum. "He was equally dedicated to community service within the Augustana community, serving as the Circle K advisor for years, and to his constant work with the community Moline Kiwanis."
The Moline Kiwanis website proudly touts itself as "Home of Illinois-Eastern Iowa District Governor-Elect Mel Peterson."
"For each of the four years that I was involved with Circle K on campus, Dr. Peterson was highly involved, keeping us in contact with our sponsoring Kiwanis club in Moline and at the international club level," said Troy Curtis, a 2010 Augustana graduate. "He was always helpful with planning service projects and coming to meetings, even when they were at horrible times on evenings or weekends. It is rare that you find such a dedicated individual."
The Dispatch and Rock Island Argus recently praised Dr. Peterson and the Moline Kiwanis Club for their initiative in restoring a neglected monument in Moline's Riverside Cemetery. Dr. Peterson had stumbled upon a rusty plaque on a crumbling concrete block bearing the words of the Gettysburg Address.
"Instead of just shaking his head and moving on, he did something about it," the newspaper editorial stated. Dr. Peterson asked the Kiwanis to restore the Civil War memorial, and with the help of community volunteers and donors, the plaque was repaired and moved to a more visible location.
A short walk from the planetarium where Dr. Peterson kept his office is Augustana's Swenson Hall of Geosciences. For the past three years, he shared his morning coffee, always in his Charlie Brown mug, with Gail Parsons, Swenson building secretary.
"We had such wonderful talks about everything — from what tires were good to the news of the day," Parsons said. "We loved him dearly. He was such a dedicated person in whatever he chose to do. The guy never quit. He will be sorely missed."
Living life to the fullest
By Dr. David Renneke, professor emeritus of physics at Augustana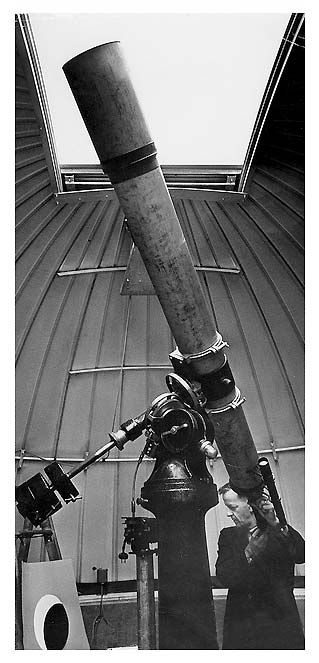 Dr. Mel Peterson using a telescope in the John Deere Planetarium to view an eclipse in 1970. (Photo courtesy Augustana Special Collections)
I have known Mel Peterson since I joined the physics faculty at Augustana over 40 years ago. We shared a common interest in science, technology and especially observational astronomy. During the years that Mel was the director of the John Deere Planetarium, he was always very enthusiastic when talking to visitors of all ages about the wonders of the night sky. He loved talking to grade-school kids and relished the handwritten notes and drawings that many of them sent in describing a recent visit to the planetarium.
Mel had a keen interest in the space program and particularly the International Space Station (ISS). He enjoyed calling attention to specific days and times when you could go outside and view the ISS passing overhead without a telescope. If he were to write this sentence, he would say, "Check out the website heavens-above.com for Rock Island and note that the next viewing opportunities from July 22-27 are all early in the morning before sunrise."
Even after he retired from being the planetarium director about 12 years ago, he continued to come over to campus as a volunteer, helping our current director Dr. Lee Carkner in different ways. For example, during the Christmas season, Mel gave several of the public programs for the "Season of Light." In February, he was thrilled that so many teachers brought their students to experience the planetarium program, which he started, called "The Drinking Gourd," as part of Black History Month.
One of my unforgettable experiences with Mel was the evening we traveled to a rural observatory south of Muscatine, Iowa, to look through a large telescope at the dwarf planet Pluto. As we climbed the tall ladder to reach the eyepiece of the long refracting telescope, the members of the local astronomy club assured us that the tiny white speck we saw was indeed Pluto. Neither of us had seen it before!
Mel was a very good friend of mine and a great faculty colleague. He was very excited about the trip to Geneva, Berlin and Sweden that he and Betty were on when he died. He certainly lived life to the fullest even to the end. We will miss him as we remember all of his contributions to Augustana, to his church (Trinity Lutheran in Moline) and to his service club, the Kiwanis.
Note: Currently, two of Mel's photographs are featured on the Augustana Astronomy website. The one of the first quarter moon was taken at the Augustana observatory on March 21, 2002. The one of the Horsehead Nebula was taken at Kitt Peak Observatory on Oct. 5, 2000.