Peterson: 'The action is its own reward'
Professor, planetarium director embodied Augustana ideals of leadership and service
July  18, 2011
(Editor's note: This article originally ran in Augustana Magazine in the summer 2009 edition. Dr. Mel Peterson died July 16, 2011.)
At the bottom of the Grand Canyon, far from city lights, the night sky is ablaze with stars. It's a sight that brings you closer to the incredible expanse of the universe, and a place Dr. Mel Peterson '53 loves.
For the past 18 years, Peterson would backpack the rugged trails that wind through the canyon. And he was never alone. The Augustana professor rounded up as many people as possible: faculty and friends of the college, including some who were not natural campers and had to be convinced to go. But Peterson persisted, knowing the experience would be its own reward.
What followed was a memorable series of sojourns — involving theologians, chemists and geologists — who brought their own knowledge and perspective to the trail. The list of names changed a bit from year to year, but the canyon always did its magic, and there was much to discuss. The night sky was instructive, but so were the towering rock formations and abundant wildlife.
"As you're sitting around the campfire at night, he (Peterson) could tell you everything you wanted to know about the constellations," says Kai Swanson '86, who took two of the canyon trips as a boy. "You might come across a snake or a lizard, and he could tell you all about the biology of those creatures. And the history of things as well. It just goes on and on."
Peterson still has the enthusiasm, but at the age of 79, he no longer organizes wilderness adventures. His beard, which first appeared in the canyon, is now snow white. Thankfully, he can always lead a virtual field trip inside the John Deere Planetarium at Augustana.
"You've got to be interested, dig in, and expand your views," he says, settled in one of the tilting chairs under the planetarium's domed ceiling. Turning down the lights, and powering up the computers, he can project a field of stars as clear as a Grand Canyon night. It's another place to share his sense of discovery, and he does so as a frequent host of the planetarium shows.
About 90 percent of the audience is schoolchildren. Over the years, the numbers have added up. Peterson has probably hosted 100,000 children, maybe more.
"They really do have a sense of wonder," he says. "Here in the Quad Cities, they don't see as much of the night sky as I saw when I was growing up, and it's kind of neat to see how they respond to it."
Though he's been retired, officially, for 10 years, he comes to the planetarium every day as a volunteer.
"Mel works on displays, he's working on meteorites, and he maintains the equipment," says Dr. Lee Carkner, who took over Peterson's job as director of the planetarium. "When I started out, Mel was there every step of the way."
If Peterson hadn't stayed to share the load as a volunteer, Carkner says, they couldn't possibly offer the programs they do. "He has tremendous energy. He's up and down the ladder, taking )photographic) slides up in the observatory. He just loves what he's doing."
During an open house in May, the night was clear, and a steady line of visitors was heading up to the observatory to see the rings of Saturn. Perhaps no one was more excited than Peterson. "You can look at a picture, but seeing it in the telescope, it becomes real," he says. "When somebody goes up in the observatory and says, 'Wow!' — that for me is what it's all about."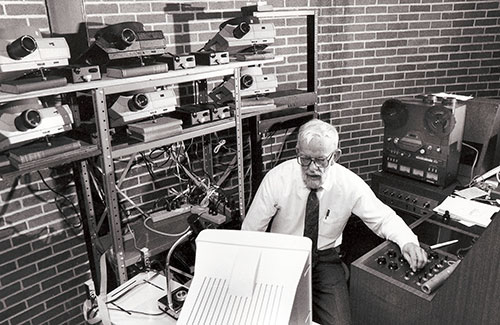 Dr. Mel Peterson, professor emeritus and former planetarium director, runs the controls during an annual "Season of Light" show in 1994.
A liberal arts world view
His world view is inextricably a liberal arts view, intersecting with leadership and community service. "That's the amazing thing," says Carkner. "It's not just volunteering at the planetarium. He's involved in Kiwanis, the historical society, his church and many other organizations."
"Well, he's Mr. Kiwanian, really," says Mark Petersen '75, who, though no relation to Mel, stakes a claim to Peterson on behalf of the Moline Kiwanis Club. "Mel is best known for selling roses and tickets to the pancake breakfast. Both of them are big fund-raisers for Kiwanis. He probably sells as many tickets as the rest of the club combined. I actually used to give him some competition in pancake tickets, but I've fallen off in the last few years. Mel continues on.
"I think everybody at Augustana knows when it's Pancake Day and when it's Rose Day. Our club wouldn't be the same without him, wouldn't be near the club it is."
Peterson is also the driving force in Circle K at Augustana, the collegiate branch of Kiwanis. He's been the group's one and only advisor for years. He helps students run a tutoring program for schoolchildren. Or, if they adopt a street to pick up trash, Peterson is out there with them. "He leads by example," says Melissa Johansen '09, who just wrapped up a year as the group's president. "He's not somebody who tells us we should be doing this type of activity; he's actually doing it. That's how he encourages us to get involved."
Not only is Peterson involved in countless service and civic organizations, he's held leadership posts in all of them, at one time or another. Today, he limits himself to the planetarium, as well as the Popular Astronomy Club, the American Chemical Society (for 50 years), the Augustana Historical Society, the Blackhawk Hiking Club, his church activities, some local advisory boards, and, of course, Kiwanis.
His wife, Betty, often joins him, and has adopted many of the groups as her own, though, she says with just a hint of exasperation, "He always seems to wind up in charge." After 42 years of marriage, she has seen this first hand, as Mel convinced her to lace up her hiking boots for several of the Grand Canyon trips. "I used to worry that he was overrextending himself, but he enjoys being responsible for things."
"He doesn't strive to be high-profile," adds Dr. David DeWit, a longtime colleague in the chemistry department. "He's just involved in so many things that everybody knows him. When I get to be his age, I hope I have half the energy he has."
A love of the outdoors
Peterson traces his diversity of interests to a love of the outdoors, growing up in Moline, Ill. "I was always interested in the outside, the outdoors, scouting," he says. "We lived out in the country so I'd go home through the woods. I grew up and developed an interest in things like that."
He earned an astronomy merit badge when he was 16, part of a longtime interest. But he got hooked on chemistry his first year at Augustana, in 1949, and stayed with it, returning to the college to teach in 1958. "After the third or fourth year, I just never thought about going anywhere else," he says. "I think it's the people I worked with."
"He grew up here, he went to school here, he came back to teach here," says Dr. Richard Narske '64, one of Peterson's chemistry students who also came back to teach at Augustana. "It's something you don't see much anymore. I think it means that individual is a tremendous asset to that community. It's loyalty that runs deep."
In a world where people jump from town to town, and job to job, Peterson's roots in the college and community go down to bedrock. Not only does his loyalty run deep, Peterson has come to embody the Augustana ideals of leadership and service.
Where did he find this commitment? What drives him?
Asking this feels like asking him why he has fun. "It's just a given," he says. "It's something you do without thinking about it."
When one develops a sense of community,and one's place in it, a spirit of service to others follows automatically. It comes as naturally for Peterson as walking a trail through the Grand Canyon, or looking up at the stars on a quiet evening.
"The action is its own reward," he says. He's smiling, gently, like someone who has known this a long time.