July 15, 2011
2011 Season - Strong 2010 finish fuels optimism in 2011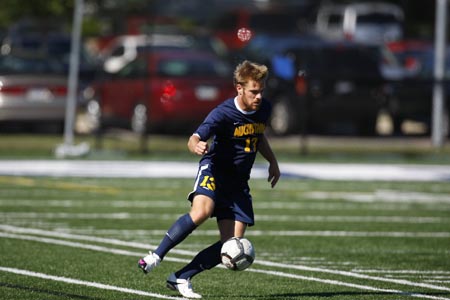 Senior Cory DeGrave was voted the Vikings' "Most Valuable Defensive Player" in 2010. He returns to anchor an Augustana defense that posted five shutouts last season.
Heading into the 2010 season Augustana head men's soccer coach Brenton Joseph was concerned about replacing 10 seniors from 2009. When his team was 0-4-1 through the first five matches it seemed like his worst fears were coming true. However, a young team caught stride and went 8-7 the rest of the way and fooled the "experts" by finishing fourth in the College Conference of Illinois & Wisconsin.
It is now 2011 and Joseph is looking at an entirely different scenario heading into the season. His Vikings return 17 letter winners from a year ago and there are starters at nine of the 11 positions, including a few spots where there are multiple players who saw starting duty.
"Last year it took our younger guys a while to play at the level we needed," said Joseph who has had his team in the CCIW tournament each of the last two seasons. "Once we understood what it takes to be successful as a unit, we got better."
The Vikings clearly got better as the season progressed. After that 0-4-1 start, things started to shift with a 3-0 win over Cornell on September 15. Augustana ended the year with a 4-3 mark in the CCIW and then played a tremendous game in a 2-1 loss at Wheaton in the first round of the conference tournament.
"We are one year older and one year wiser," said Joseph, who has an overall record of 28-37-9 four seasons at Augustana. "We have more experience now and up and down our lineup and in the off-season we stressed being ready early because that was obviously a problem last year. We have the talent to be pretty good."
Senior Sean Fidlow (Carmel Catholic HS, Gurnee, Ill.) was a second team all-conference performer last year and was voted the team's "Best Offensive Player". He led the Vikings in scoring with five goals and four assists for 14 total points. He will be back in his midfield position.
Fidlow will be joined in the midfield by sophomore Matt Shipon (Elgin South HS, Elgin, Ill.), senior Brett Bleecher (Marist HS, Oak Lawn, Ill.), junior Nick Wolfe (Neuqua Valley HS, Naperville, Ill.) and sophomore Adam Wilson (Plainfield North HS, Plainfield, Ill.). Shipon scored three goals and had three assists a year ago. Wolfe and Wilson each had one goal while Bleecher recorded a pair of assists.
In one forward spot sophomore John McSpadden (Geneva HS, Geneva, Ill.) returns as a starter after scoring five goals and notching two assists last fall. The other forward position could go to junior Kevin Wyrostek (Naperville North HS, Naperville, Ill.). He was a starter as a freshman in 2009 and last year he had two goals and an assist as a substitute.
The defense will be solid with senior Cory DeGrave (Fremd HS, Palatine, Ill.) leading the way. DeGrave was voted the Vikings' "Most Valuable Defensive Player" in 2010. Joining DeGrave on defense will be junior Jason Beckus (Neuqua Valley HS, Naperville, Ill.) and sophomores Michael Buric (Notre Dame Prep, Scottsdale, Ariz.) and Even Johnson (Glenbard South HS, Glen Ellyn, Ill.). Senior Kurt Negwer (Lutheran North HS, Florissant, Mo.) and sophomore Grant Halter (Glenbard West HS, Glen Ellyn, Ill.) will also be in the mix on defense.
A pair of sophomores will be battling for the goalkeeper's position. Tyler Cowherd (Bettendorf HS, Bettendorf, Iowa) played 18 games last year and logged 1,667 minutes and had a goals-against-average of 1.51. Steve Zahrobsky (Downers Grove South HS, Woodridge, Ill.) played five games and really came on near the end of the season. He sported a 0.92 goals-against-average in 195 minutes.
"We had a nice recruiting class and a couple of freshmen are good enough to make an impact," said Joseph. "Our veterans really had a good off-season and we think we can compete with anybody on our schedule."