Soccer fever rises with women's World Cup final
High school players on campus think U.S. can win
July  14, 2011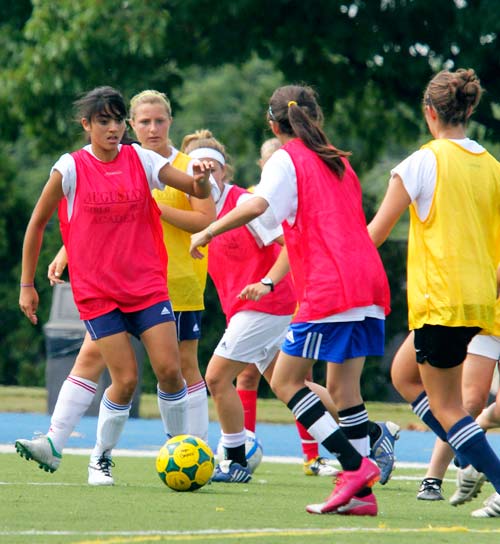 High school players scrimmage at the Augustana soccer camp this week. See more photos on Facebook. (Augustana Photo Bureau/Mark Marogil)
High school players taking part in Augustana's elite soccer academy this week believe the U.S. women's soccer team can pull out a victory over Japan in the World Cup final this Sunday.
"They've made a lot of progress, and seem to be working well as a team," said Kerri Skotnicki, who played on two state championship teams at Waubonsie Valley High School in Aurora, Ill., and will attend Augustana this fall. "No one expected the U.S. to beat France, but they did so I think they have a good chance of winning."
Scott Mejia, the head women's soccer coach at Augustana, runs the college's summer soccer camps for younger players. As he points out, the United States was the team to beat until 1999, the year Mia Hamm led the Americans to a World Cup championship. This Sunday will be the United States' first World Cup final appearance since 1999.
"Seems like they're playing in Mia Hamm's shadow, and they have something to prove," said Morgan Olsen, a defender who is transferring to Augustana this fall from Northern Iowa University. "They've got the momentum, and I think that will play a big part."
Olsen says she's overwhelmed by the increasing interest on Facebook about the upcoming United States-Japan matchup. "It's awesome that the sport is getting promoted, and I'm not complaining, but it's funny how people who were never soccer fans are now all excited about it," she said.