July 14, 2011
2011 Season - Talented youngsters will lead Vikings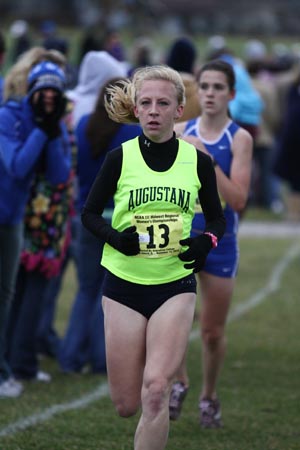 Senior Angela Pisani is one of three captains for the 2011 Augustana women's cross country team. She was a top seven performer a year ago for the Vikings.
There aren't many coaches that can match the longevity of Fred Whiteside. When Whiteside gathers his Augustana women's cross country team for the first meeting in August of 2011, it will mark the beginning of his 30th season as the head coach of the Vikings.
"As always, we will have a very large roster in terms of numbers," said the man who has led Augustana to a total of six College Conference of Illinois & Wisconsin titles in cross country. "We have a group of younger athletes who are going to be handling key roles on the team."
The Vikings have six seniors listed on the 2011 roster but two of those are non-letter winners and only one was in the team's top seven at the end of the 2010 campaign. That would be Angela Pisani (York HS, Elmhurst, Ill.), who shared the Most Improved Runner award last year with sophomore Alexandra Blust (York HS, Elmhurst, Ill.). Pisani will be one of three captains on the team this year, joining Sarah Johnson (Grayslake North HS, Lake Villa, Ill.) and Melissa Lehpamer (Plainfield South HS, Plainfield, Ill.) in the leadership capacity. The other senior letter winner returning is Danielle Feldhaus (Meadowdale HS, Lynwood, Wash.). Kristine Counter (Lincoln-Way Central HS, Manhattan, Ill.) and Lauren Vasicek (Neuqua Valley HS, Naperville, Ill.) are the other seniors on the roster.
From the top seven at the conclusion of the 2010 season only one runner has graduated but the loss of Hannah Hottle (Monmouth-Roseville HS, Monmouth, Ill.) leaves a big hole. Hottle, who finished 17th in the CCIW meet in 2010, was the co-MVP a year ago along with current junior Theresa Coverick (Stagg HS, Palos Park, Ill.). Coverick was the top Augustana finisher in three meets last year (Northern Illinois Invitational, Loras Invitational and NCAA Midwest Regional). She has been a solid performer each of her last two seasons and is coming off a strong track season. Coverick was named the "Runner of the Week" last year after her performance at the Northern Illinois Invitational on September 11.
Junior Tara Bistry (Joliet Catholic HS, Shorewood, Ill.) was the Most Valuable Freshman in 2009 and was fourth at the Western Illinois Invitational last year during the early portion of the season. Junior Annie Heifner (Oregon HS, Oregon, Wis.) owns the school record in the 2000 steeplechase in outdoor track & field and is also a member of the school record 3200 relay team. She was fourth in the St. Ambrose Invitational during the latter stages of the 2010 season. Another junior, Sarahbeth Jones (Warren Township HS, Wadsworth, Ill.) also has a part of the 3200 school record in track and has been a consistent top seven performer. Sophomore Emma Grandgeorge (Sycamore HS, Sycamore, Ill.) won the Most Valuable Freshman honor in 2010.
Sophomores Kelsey Stockert (Peoria Notre Dame HS, Mapleton, Ill.), Kristen Whiteside (Zion-Benton HS, Winthrop Harbor, Ill.), Katie Kornaus (Portage HS, Portage, Wis.) and Blust are all poised to make runs at top seven spots. Juniors Amanda Rodriguez (Mahomet-Seymour HS, Mahomet, Ill.), Kirstillyn Pohlman (Zion-Benton HS, Winthrop Harbor, Ill.), Jennifer Prazak (Naperville North HS, Naperville, Ill.) and Alyssa Tworek (Carmel HS, Hawthorn Woods, Ill.) will be in the mix as well.
"We are going to count on our older runners to serve as leaders but we like our freshman class as well," remarked Whiteside who has also won 12 CCIW titles as the head coach in women's track & field. "It takes a bit for freshmen to get used to the collegiate distance but there are several who could make an impact.
Included in that incoming freshman class are: Jessica Bacon (Rock Island HS, Rock Island, Ill.), Rebecca Sund (Palatine HS, Palatine, Ill.), Krista McCurrie (Stagg HS, Palos Park, Ill.), Rachel Kelly (Downers Grove South HS, Downers Grove, Ill.), Kristina Bowen (Kaneland HS, Elburn, Ill.), Stephanie Burbridge (Palatine HS, Palatine, Ill.), Hailey Jacobs (Woodstock HS, Woodstock, Ill.), Elizabeth Lundine (Willowbrook HS, Villa Park, Ill.), Lorraine Stamberger (LaMoille HS, LaMoille, Ill.) and Kerri McGrail (Plainfield North HS, Plainfield, Ill.).
"Our goal is always to be running our best at the end of the season," said Whiteside. "We will use the early portion of the year to strengthen our base so that we will be ready to go when the championship meets roll around."