Augie Choice takes students where they want to go
July  21, 2011

Making sense of numbers
Throughout the 2010-2011 academic year, three elementary education majors worked closely with Longfellow Liberal Arts School's kindergarten and first-grade students to help them master basic number sense concepts such as using one-to-one correspondence, counting to 100 and recognizing numbers.
For the Number Sense Project, Christina Mazza '12, Josh Fahs '12 and Maggie Blackburn '12 used technological tools such as the iPod, iPad or computer, as well as manipulatives such as ten frames and digi-blocks, to find effective ways for students to increase their understanding of numbers.
The students presented a poster on their findings at the college's Celebration of Learning in May. The poster featured images of activities they used to strengthen number sense ability as well as collected data demonstrating the students' progress using the various methods.
According to Mazza, the children who were struggling the most with numbers did not benefit from "jumping into" the technology. They needed instruction on the concepts in the form of manipulatives and visual objects before trying to demonstrate their knowledge using technology, which can be an abstract concept.
"Technology was used a lot for students to practice a specific concept; it was not used to initially teach the concept," she explained. "For example, if a student cannot recognize the numbers 1-10, then they would not be able to successfully complete the software program Line Em Up, which asks students to place numbers in order.
"Therefore, we found that students need to initially use manipulatives and receive instruction before diving into software programs that do not provide instruction, but rather provide practice and build upon previous background knowledge."
Through the Augie Choice program, the Augustana students were paid for their time spent at Longfellow and for related work outside of Longfellow, including literature review, data collection and writing. Mazza says Augie Choice money also will be used for hotel and transportation expenses when the trio presents its findings at the Illinois Council of Teachers of Mathematics conference in Springfield, Ill., in October.
In addition to Augie Choice money, the Augustana students received funding from Augustana's education department to purchase an iPad. "Since we were exploring technology and how it compares to using manipulatives, the purchase of these tools was necessary for our research," Mazza added.
Dr. Randy Hengst and Dr. Michael Egan of Augustana's education department developed the software used in the Number Sense Project at Longfellow School. More information about the project, including access to the software, is available at augustana.edu/numbersense.
Through the Augie Choice program, Augustana students may receive up to $2,000 to defray non-tuition costs of international study, internships and research during their junior or senior year. Thomas Williams '06 conceived the idea while serving on Augustana's Educational Policies Committee as a student. Williams wanted Augustana students to have the opportunity to take control of their education, and strengthen their commitment to their own development.
And so they have. Since 2009, nearly 275 Augustana students have applied for and been granted $545,000 in Augie Choice funding for experiential learning experiences. They have interned at the Field Museum in Chicago and the Hanoi Stock Exchange in Vietnam, studied in Italy, France, Ecuador, and the list goes on.
"I've been impressed with the depth and breadth of Augie Choice projects selected by our students," said President Steve Bahls. "Augustana students are intellectually curious, and Augie Choice gives them the tools to explore their curiosity. Thanks go to our faculty and staff for organizing these opportunities and to alumni and friends whose financial support to the college makes Augie Choice possible."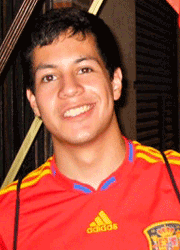 Edwin Fonseca '12 proudly wears the colors of Spain.
Edwin Fonseca '12 spent a month in the summer of 2010 studying Spanish in Salamanca, Spain. "I used Augie Choice money to pay for trip excursions and travel expenses," said Fonseca, who is majoring in accounting and international business with a minor in Spanish. "Without Augie Choice, I don't think I would have attended the study-abroad program."
As a result, Fonseca now is interested in working in Spain or with a company that has a relationship with the country. The experience also helped him discover a love for travel.
"I had a number of experiences in Spain that are irreplaceable," he said. "Among many, being in Spain when the country won the World Cup championship [men's soccer] is something I will never forget."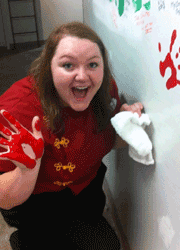 The Great Movie Ride at Disney's Hollywood Studios has a hallway of handprints of those who have completed training and passed assessments. Here's Emily Beatty '12 after learning she had passed the tests and was now an official tour guide.
Closer to home, Emily Beatty '12 is engaged in "single handedly the most amazing experience" she has ever had, working as an intern for the Disney Corporation in Orlando this summer. Her job? A tour guide at The Great Movie Ride located at Disney's Hollywood Studios. "This was an exciting placement for me because the guest interaction is extremely high, and I quickly learned that it is one of the most prestigious attractions to work based on the difficulty and performance level expected out of the cast members," Beatty explained.
From memorizing a 42-page script to running two separate tour guide shows to learning when (and when not) to activate 17 road bed sensors on the ride and much more, Beatty has had to do her homework this summer.
"This internship hasn't been a walk in the park," Beatty admitted. "I've moved thousands of miles away from home, started a new job, moved into an apartment with seven girls I didn't know, and have been responsible for making sure every person I interact with has a magical day."
With that said, she can't imagine leaving when her internship ends in August.
"You can only learn so much through textbooks, and this experience has taken me to a whole different level," she said. "I have learned so much about communications, relationships, work ethic and even myself. Augustana has taught me not to accept what is, rather it has pushed me to ask questions and dig deeper. That foundation has given me a great reputation of dependability and a strong work ethic in this internship."
Augie Choice funding enabled Beatty to take advantage of the Disney internship. She used the money to pay for travel expenses and also her rent until she received her first paycheck.
In addition to helping students fund study-abroad programs and internships, Augie Choice can be used to pay expenses related to research. Funding from Augie Choice and Augustana's Freistat Center for World Peace made it possible for Andrew Shaffer '11 to cover expenses (airfare, housing and language classes) for his research in Argentina.
Following the collapse of the Argentine military dictatorship in 1983, Argentine human rights groups petitioned the government to take action against those who had perpetrated genocidal acts, explained Shaffer, whose advisor was Dr. Molly Todd. When that failed, they attempted to create popular justice.
"My research focuses on one method, the escrache, and how it has been used both to bring justice for the past and to recreate Argentine society in a way that will, hopefully, prevent the atrocities of the past from happening again," he said. "My work needed to be done on-site, in Argentina, and there is no way I would have been able to complete it without funds from Augie Choice and the Freistat Center."
In the fall, Shaffer will continue his research at the University of San Francisco while working on his master's in international studies.
"More and more today, we realize that students need not only an exceptional base of knowledge, but real-world experience in putting that knowledge to good use," said Bob Haak, director of Augustana's Community Engagement Center. "That's what Augie Choice is all about."