July 13, 2011
2011 Season - Skeens, Mikula and Williams named captains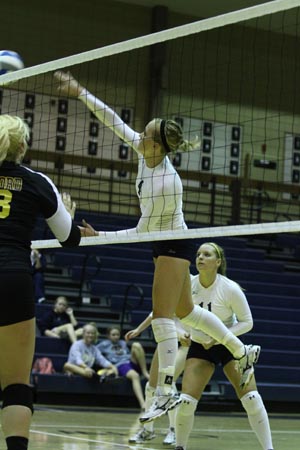 Senior Brianna Skeens (hitting) and junior Kelsey Mikula (number 11 in background) will be two of the three captains for the Vikings in 2011. Junior Sarah Williams will be the third captain.
A senior and two juniors have been named as tri-captains for the 2011 Augustana volleyball team, it was announced by Viking head coach Jamie Walters. Senior middle hitter Brianna Skeens (Vernon Hills HS, Libertyville, Ill.) will be a captain for the second consecutive year while junior middle hitter Sarah Williams (Rockford Lutheran HS, Rockford, Ill.) and junior setter Kelsey Mikula (Coal City HS, Coal City, Ill.) will step into the leadership role for the first time in their collegiate careers.
"Brianna, Kelsey and Sarah have all worked very hard in the off-season," said Walters, who guided the Vikings to a fourth place finish in the College Conference of Illinois & Wisconsin in her first season as the head coach. "The three of them have worked hard during the off-season with leadership development and have grown and matured as individuals."
Skeens played in 107 games last fall and was second on the team in kills with a 2.16 average (231 kills in 107 games). She was second on the Vikings in blocks with 51 (16 solo and 35 assists) for an average of 0.48 per game. A multiple-sport athlete, she was a starter on the Augustana basketball team last winter. She is an elementary education major and the daughter of Bill and Sue Ellen Skeens of Libertyville, Illinois.
Williams was named the Vikings' Most Improved Player in 2010. She was a non-letter winner as a freshman and during her sophomore year she played in 87 games and averaged 0.77 kills per game. She had 67 kills and led the team in blocks with an average of .52 (45 total blocks in 87 games). She is the daughter of Patrick Williams of Garden Prairie, Illinois and Lynn Williams of Loves Park, Illinois and is majoring in Communicative Sciences Disorders.
Mikula shared the setter's duties as a sophomore and led the team in assists with 590 in 112 games for an average of 5.27. She had 194 digs (1.73 average) and 21 service aces. She also lettered on Augustana's women's basketball team. A biology major, she is the daughter of Jim and Wendy Mikula of Morris, Illinois.
"These three ladies have an admirable drive that I have not seen in years," said Walters who led her team to a 12-20 overall record in 2010. "Because of this drive to become the strongest leaders possible for their team, they have, in turn, earned the respect of their teammates."