July 13, 2011
2011 Season - Football alumni outing set for Adrian weekend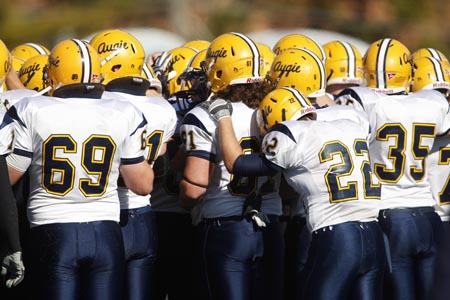 Plenty of activities are planned for the "Augustana Alumni & Friends" weekend of September 16-17 when the Vikings host Adrian in a non-conference game.
Augustana football alumni and friends of the program will be able to get together over the weekend of September 16-17 when the Vikings host Adrian at Ericson Field. Head coach Rob Cushman and director of athletics Mike Zapolski have announced a full slate of activities with a golf tournament kicking things off.
On Friday, September 16 the Augustana Football Alumni and Friends of the Program golf outing will take place at Pinnacle Country Club in Milan, Illinois, beginning at 1:30 p.m. The tournament will conclude with an awards presentation at 6:00 p.m. and there will be a post-tournament social at The River House in Moline.
The action picks up again on Saturday, September 17 with a tail-gait starting at 10:30 a.m. in the Ericson Field parking lot just north of the Carver PE Center. The non-conference football game between Cushman's Augustana Vikings and the Adrian Bulldogs is scheduled for 12:00 noon. There will be a tent set up in the West end zone for all former Viking players. After the game the tail-gaiting resumes back in the parking lot.
"This is a tremendous opportunity for our former players to get back on campus, watch a game, relive some great memories and re-connect with former teammates and coaches," said Cushman, who will be in his first season as the head coach of the Vikings after serving three seasons as the defensive coordinator. "We are really looking forward to having people back on campus."
The golf outing will begin at 12:00 noon on Friday, September 16. Pre-registration is encouraged: Register online.
All participants will be provided with lunch upon arrival along with the opportunity to utilize the driving range. Augustana football coaches and student-athletes will be on hand to welcome the alumni to the event. A shotgun start is scheduled for 1:30 p.m. The price for a round of golf is $100.00 per golfer. The registration fee includes lunch, access to the driving range, 18 holes of golf, cart and authentic Augustana football merchandise.
There are also opportunities for sponsorship. Hole signage and company advertisement will be $200.00 and a prize sponsorship goes for $500.00. A participant gift sponsor will be $500.00 and a lunch sponsorship will run $1,000.00. Anyone interested in obtaining a sponsorship can contact Mike Zapolski at (309) 794-7223 or via e-mail at mikezapolski@augustana.edu.