July 12, 2011
2010-11 Season - Men's basketball schedule announced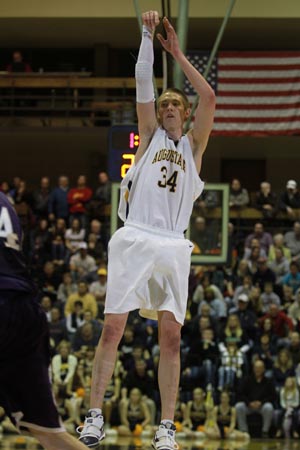 Bryant Voiles and the Augustana Vikings will tackle a tough schedule for the 2011-12 season that will include a pair of former NCAA Division III national champions (Washington and Wisconsin-Stevens Point) in the non-conference portion.
Augustana has released its 2011-12 men's basketball schedule and the non-conference portion of the slate is highlighted by games with NCAA Division III tournament teams Wisconsin-Stevens Point and St. Norbert. The Vikings, coming off a 27-4 CCIW-championship campaign a year ago, will also make a trip to former two-time national champion Washington University in St. Louis, Missouri to play in the 28th annual Lopata Classic.
Coach Grey Giovanine's regular season opener will be on November 15 against Aurora at home. On November 19, St. Norbert visits Carver Center. The Green Knights were 20-6 in 2010-11, winning the Midwest Conference regular season and tournament titles and advancing to the NCAA tournament. They were ranked 24th in the final D3Hoops.com poll. The Vikings won 57-56 at St. Norbert last season in the championship of the Nicolet National Bank Holiday Tournament.
Augustana will renew its cross-river rivalry with St. Ambrose, visiting Lee Lohman Arena on November 29. On December 2 and 3, the Vikings will play in Washington University's Lopata Classic. Wisconsin Lutheran will be the team's semifinal opponent on Friday, followed by a Saturday contest with either the hosts—who were back-to-back national champions in 2008 and 2009—or Whittier.
On December 10, UW-Stevens Point comes to Rock Island. The Pointers won the 2010 national title and went 26-4 last year, reaching the Sweet 16 at Carver Center before falling to eventual national champion St. Thomas. Stevens Point was ranked sixth in the final D3Hoops.com poll, one spot ahead of Augustana, who lost to St. Thomas in the Elite Eight.
The rest of the non-conference portion of the schedule includes home games against Fontbonne, Chicago and MacMurray as well as road dates at Wisconsin-Oshkosh and Knox. Both Fontbonne and MacMurray are led by former Giovanine assistants. Steve Schafer, first-year head coach at Fontbonne, is an Augustana graduate and was a student assistant during the 2000-01 season and MacMurray head man Todd Creal was on the Viking staff from 2002-04.
In the CCIW—which will play its games on Tuesdays and Saturday's this year—the Vikings play home-and-home against 2011 NCAA tournament participant Illinois Wesleyan and conference regular season co-champ North Central as well as the rest of the always tough league.
2011-12 AUGUSTANA MEN'S BASKETBALL SCHEDULE
| | | | | |
| --- | --- | --- | --- | --- |
| Day | Date | Opponent | Site | Time |
| Tues. | 11/15/11 | Aurora | HOME | 7:30 |
| Sat. | 11/19/11 | St Norbert | HOME | 7:30 |
| Tues. | 11/22/11 | UW-Oshkosh | Oshkosh, Wis. | 7:00 |
| Tues. | 11/29/11 | St Ambrose | Davenport, Iowa | 7:30 |
| Fri. | 12/02/11 | Wisconsin Lutheran @ Washington | St Louis, Mo. | 4:00 |
| Sat. | 12/03/11 | Whittier or Washington | St Louis, Mo. | 4:00/8:00 |
| Tues. | 12/06/11 | Fontbonne | HOME | 7:30 |
| Sat. | 12/10/11 | UW-Stevens Point | HOME | 7:30 |
| Wed. | 12/14/11 | University of Chicago | HOME | 7:30 |
| Mon. | 12/19/11 | Knox | Galesburg, Ill. | 7:30 |
| Fri. | 12/30/11 | MacMurray | HOME | 7:30 |
| Wed. | 01/04/12 | Millikin | Decatur, Ill. | 7:30 |
| Sat. | 01/07/12 | North Central | HOME | 7:30 |
| Tues. | 01/10/12 | Illinois Wesleyan | Bloomington, Ill. | 7:30 |
| Sat. | 01/14/12 | Elmhurst | Elmhurst, Ill. | 7:30 |
| Tues. | 01/17/12 | North Park | HOME | 7:30 |
| Sat. | 01/21/12 | Carthage | HOME | 7:30 |
| Tues. | 01/24/12 | Wheaton | HOME | 7:30 |
| Sat. | 01/28/12 | Millikin | HOME | 7:30 |
| Tues. | 01/31/12 | Illinois Wesleyan | HOME | 7:30 |
| Sat. | 02/04/12 | North Central | Naperville, Ill. | 7:30 |
| Tues. | 02/07/12 | North Park | Chicago, Ill. | 7:30 |
| Sat. | 02/11/12 | Elmhurst | HOME | 7:30 |
| Sat. | 02/18/12 | Carthage | Kenosha, Wis. | 7:30 |
| Tues. | 02/21/12 | Wheaton | Wheaton, Ill. | 7:30 |
| Fri. | 02/24/12 | CCIW Semifinal | TBA | 6:00/8:00 |
| Sat. | 02/25/12 | CCIW Championship | TBA | 7:30 |
HEAD COACH: Grey Giovanine