'85 grad named Illini's head men's track & field coach
By Dave Wrath '80, associate director of athletics/media and alumni relations
July  19, 2011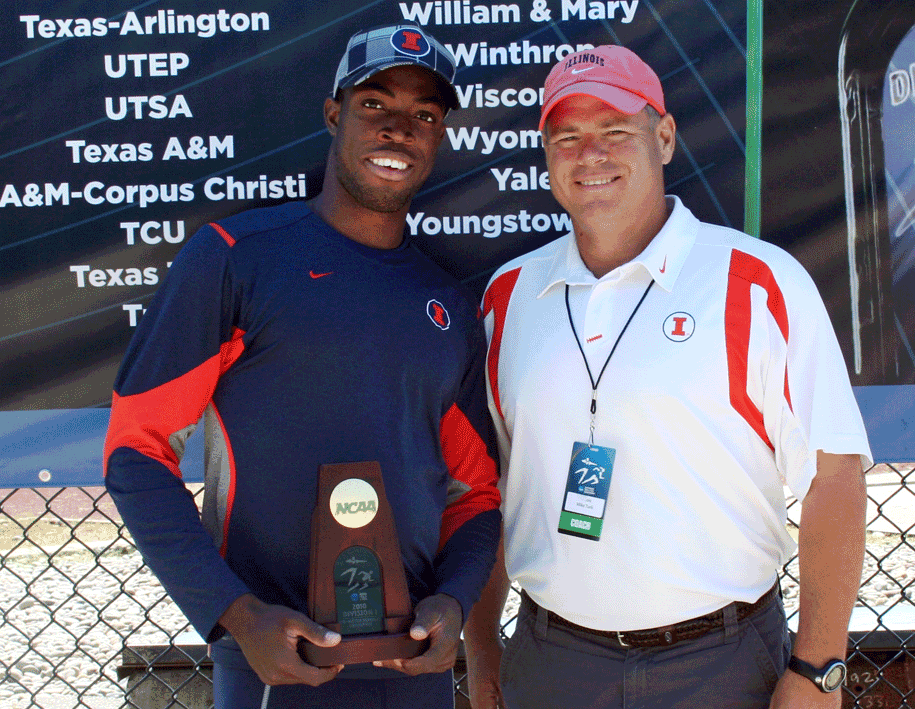 Illini Coach Mike Turk '85 with hurdler Andrew Riley after Riley took second in the 110m hurdles at last spring's NCAA championships.

Longtime coach Wieneke '62 applauds his fellow Viking's success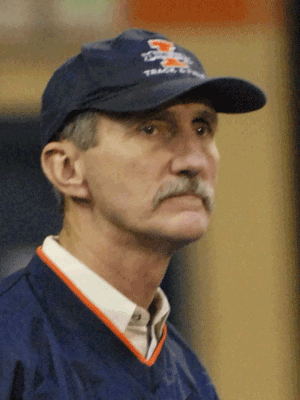 One of the first phone calls alumnus Mike Turk received when he was named the head men's track & field coach at the University of Illinois was from former Illini head coach Gary Wieneke. Wieneke, who served as the head coach for 28 years in track & field and 36 years in cross country, also has another connection with Turk. Both are Augustana graduates, with Wieneke receiving his degree in 1962 and Turk in 1985.
"It was a real honor to have him call me," said Turk of the man who was the NCAA National Coach of the Year in 1987 and guided the Illini to a total of 12 Big 10 titles in his career as head coach in cross country, indoor and outdoor track & field. "I have a great deal of respect for him. He knows about people, and he was one of the finest middle distance coaches in the world. We want to get him involved in our program as much as he wants to be."
For Wieneke, it was a pleasure to make that call to his fellow Augie grad.
"I have watched him closely since he was named the interim head coach in 2009, and it is refreshing to see the kind of job he has done," said Wieneke. "He is an old-school type of coach, the kind I really like. I was hoping he would get the job on a permanent basis."
Wieneke was extremely impressed with the way Turk carried himself during what could have been an awkward time with the interim tag.
"To be an interim head coach for two years is really a long time," said Wieneke, who retired from coaching at Illinois in 2003. "The thing that impressed me the most was that he operated in a totally positive framework."
Like Turk, Wieneke remembers his Augustana days with fondness. "Sometimes it doesn't seem too long ago," he said. "I had a very good experience at Augie, and it is sort of unique that Mike and I would come from the same place."
Even though he may be retired from the rigors of being a head coach in the Big 10, Wieneke still wears his coaching hat. He has been the girls cross country coach at Unity High School in Tolono, Ill., and he coaches the distance runners on the track team in the spring.
"I guess I am just the kind of guy who feels like when 2:30 in the afternoon rolls around, I should be coaching," he said to explain why he continues to coach. "I enjoy being around young people and watching them develop."
Wieneke, who held the school record in the 880 along with two relays at Augustana, was inducted into three Halls of Fame during his career. His first induction was at the Drake Relays in 1991, followed by the Illinois Track and Cross Country Coaches Association in 1992 and United Township High School in East Moline in 1993.
By Dave Wrath '80
Unbeknownst to Mike Turk at the time, his desire to avoid being harassed by senior baseball players at Mendota High School in the winter of 1977 proved to be a decision that would impact his life and his career. Turk, a 1985 Augustana graduate and former CCIW shot put champion, was recently named as the head men's track & field coach at the University of Illinois. After serving as the interim head coach for the Fighting Illini since late 2009, Turk shed the interim tag after Illinois placed 12th in the 2011 NCAA Outdoor Championships. It was the highest place finish for Illinois in 23 years.
In talking about his most recent achievement, Turk chuckles about an incident that happened during his freshman year at Mendota High School that may have set the wheels of his career bus in motion.
"I really liked baseball, and there was a meeting in the school's library for all boys interested in playing," said Turk, who has been on the Illini staff since 2005. "I got to the meeting late, and when I looked in, there were no seats, and the only room to stand was with the seniors. I knew that if I went over to them they would give me a hard time, and I just didn't want to put up with that."
So he never went into the meeting, figuring he would contact the baseball coach in the morning. On his way out of the school, he ran into the sophomore football coach for whom he had played in the fall. The coach pulled him into the cafeteria and told him to sit down. A few minutes later, the assistant track coach was brought in and asked him the question that, although he didn't know it at the time, would change his life.
"So Turk, tell me why you want to go out for track and why you want to be a thrower," said John Jackson, the coach in charge of the throwing events. Not wanting to disappoint his sophomore football coach because Turk was an accomplished player, he stumbled through an answer, and the next day he was wearing the purple and gold of the Trojan track & field program.
That was the first link in a career chain that culminated in June 2011 when Ron Guenther, director of athletics at Illinois, announced that Turk was no longer the interim coach.
"I am a very spiritual person," said Turk. "I believe that we are presented opportunities in life and what we do with them is what defines us. For some reason I didn't step into that baseball meeting back in 1977, and instead I ended up being on the track team and things progressed from there."
Turk was a very good high school football player, and he was thrilled in the fall of 1979 to receive a visit at Mendota from legendary Augustana head coach Bob Reade.
"I would have loved to play for Coach Reade at Augie but things didn't work out, and I ended up at Monmouth College," said Turk. "After two years at Monmouth things weren't working out for me so I was able to transfer to Augustana."
That proved to be a wise move and one that Turk knows was another in that chain of life-defining moments that really can't be explained.
"Augie is really special to me, and I don't know if there could be a better place in terms of developing the whole person," said Turk. "I owe everything I am and have done to my time and experience at Augie."
Turk was a standout thrower for the Vikings, and he developed a life-long relationship with Hall of Fame head coach Paul Olsen.
"I learned so much from Ols, and it went much deeper than his instruction on how to throw the shot," said Turk. "His ideas about life being a journey and about total team concept in a sport that features individual events were very important in my development as a young coach. I use a lot of what I got from him today at Illinois."
It wasn't just Olsen's influence that Turk took away from Augustana, however.
"Every time I walked into Carver I was bumping into greatness," said Turk. "There was the presence of great coaches like Bob Reade and Jim Borcherding or the tremendous teaching of John Farwell or the great mentoring I got from Dr. Stan Kittleson. I was able to take something from each of those people every day that I spent at Augustana."
"One of my greatest accomplishments was passing Mr. Farwell's oral midterm in exercise physiology," Turk recalls about the bone and attachment test that Farwell put all of his students through. "It wasn't easy, and I can't say I aced it, but when I walked out of that room it just gave me so much confidence."
---
"Augie is really special to me, and I don't know if there could be a better place in terms of developing the whole person. I owe everything I am and have done to my time and experience at Augie." Mike Turk '85
---
When he graduated from Augustana in 1985, he was still unsure of his career path. He spent one year helping Olsen coach the Vikings while he finished his degree in physical education. Then a chance meeting in the Carver Center with Olsen and Dr. Robert Tallitsch of the biology department led to Turk working in a YMCA camp in Wisconsin where Tallitsch was a board member. While at that YMCA camp, Turk saw an ad in the Milwaukee Journal for a graduate assistant's position in track & field at the University of Wisconsin-Milwaukee. Upon reflection, Turk says his time at UW-Milwaukee "really taught me how to coach."
His next career move didn't require a change in location as he spent nine years as an assistant at Marquette before moving to Western Michigan University. He eventually became the head coach of the Broncos and held the position for two years before the school dropped the program.
Forced to make a career choice and with a family (his wife, Lori, and children Hannah, Sam and Payton) to consider, Turk took a position with the Sterling, Illinois, department of parks and recreation in 2004.
"I actually thought my coaching days were over at that time," said Turk. "But the job in Sterling wasn't going to be something I wanted for the rest of my working days so I began looking. One thing led to another, and I hooked on with Illinois in the fall of 2005."
When the head coaching position became available in November of 2009, Illinois officials thought the timing was wrong for a search so Turk was named interim head coach.
"I knew this was my shot at it, and I was determined to do the things that I felt were needed to bring the program up to the proud level it had once been at," said Turk. "I went in with two thoughts. The first was that everybody affiliated with the program would have a role, and the second was that I would be straight and honest with the team. I felt we needed to turn a page with the program."
Turk made great strides instantly with the Illini. In the first year, his team moved from 11th in the Big 10 to sixth in the 2010 outdoor championships. That rise continued and culminated with the 12th place finish in the national meet this past June.
He still refers back to his days at Augustana when contemplating his success.
"The Augustana connection is still there, and it always will be," he said. "To this day, I am constantly relating things to the experiences I had at Augustana. I try to stay grounded, and I think that was the prime factor in me getting the position at Illinois. I stress the things I learned, and I try to constantly be aware of who I am."
Contact Augustana Magazine editor Debbie Blaylock by email; by phone at (309) 794-8979; or by mail at Augustana College, 639 38th St., Rock Island, Ill., 61201.