McAuliffe '88 looks for the eyesores
July  19, 2011
By Katie Morell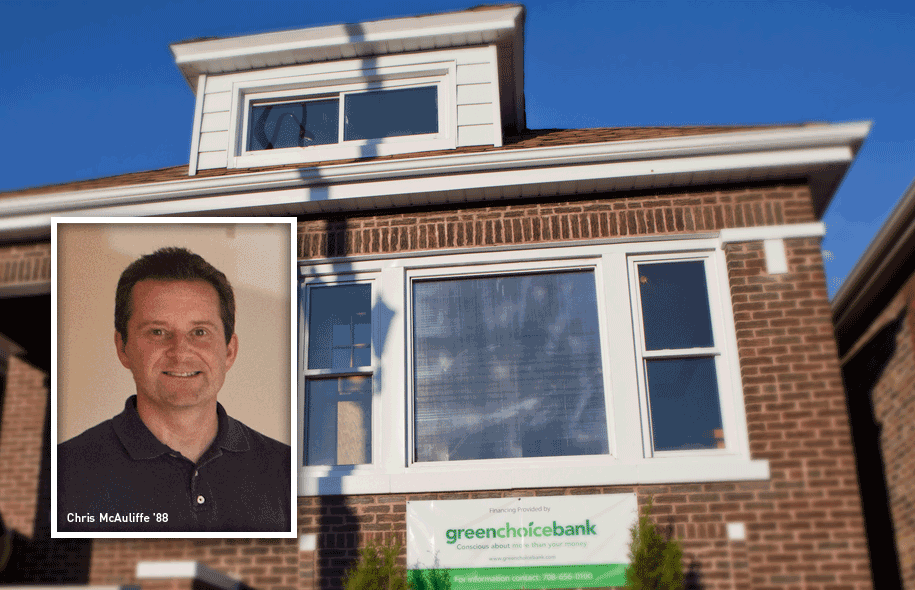 Augustana memory

Chris McAuliffe '88 may be a green building developer now, but back in the '80s he was an eager Augustana student with a tremendous love for politics.
During his senior year, he interned as a reporter at WVIK, Augustana's National Public Radio affiliate. "I had the opportunity to cover the 1988 Iowa caucuses," he said. "I was thrown into the press pool for presidential candidates--it was a thrill."
He interviewed U.S. Sen. Bob Dole ("he was very stern and to the point, but still friendly to reporters"), and former President George H.W. Bush, among others.
McAuliffe remembers hearing U.S. Rep. Richard Gephardt, a candidate for the Democratic presidential nomination, speak in his political science class at Augustana, and interviewing him afterwards. "I spoke with him and then went to my next class--just like nothing happened," he quipped.


Grad builds 'green' to revitalize Chicago communities
Nestled on a side street about seven miles from Chicago's Midway International Airport sits a three-bedroom bungalow in mint condition. The manicured front lawn sports a deep shade of green, and each interior room is finished with neutral tones, sparkling hardwood, and picture windows.
Just six months ago, the house--built in the 1920s and located in a low-income area of Cicero, Ill.--looked much less attractive. It was an eyesore, laden with spray-painted walls and overgrown weeds-a haven for squatters and a headache for local law enforcement. (See Green House for before and after photos.)
All this changed when Chris McAuliffe '88 laid eyes on the property.
McAuliffe, a speech and public administration graduate, is owner of CM Real Estate Development, a company that acquires dilapidated buildings in Cicero and nearby Berwyn, renovates them with environmentally friendly products, and sells them back to the community at affordable prices.
A relative newcomer to the building business, McAuliffe served as an assistant to Illinois Gov. James Edgar and then worked in the banking and mortgage industry after graduating from Augustana. As the country's financial markets bottomed out, he grew weary of his profession and made a drastic career move. Pulling from a longtime interest in environmentally friendly building practices, he launched his development company in April 2009.
The Cicero home described above is McAuliffe's sixth rehabbed home, and the National Association of Home Builders has certified it at the "bronze" level in green building. "They come into the property before the renovation begins, and then rate its energy efficiency after the project is finished," he said. "We expect to bring in the HERS [Home Energy Rating System) rater to certify this property by the end of the summer."
When he's ready to start a new project, McAuliffe may look at 10 homes, then narrow the list and put in an offer on one or two. From there, he looks for financing. Until recently, he tapped into "B of C" or "the Bank of Chris," he quipped. "I was doing this all on my own. Now I've partnered with the local GreenChoice Bank for financing, which was helped a lot."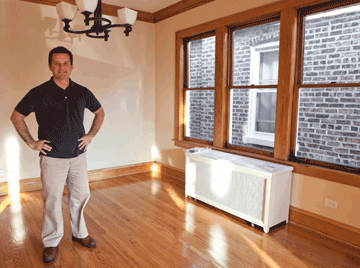 Chris McAuliffe '88 in the dining room of the home he recently renovated.

McAuliffe hires a team of experts to rehab each home in an environmentally friendly fashion. "I salvage as much of the property as I can--a process that is green in itself," he said. "I will have the floors sanded down, use energy-efficient appliances, reuse and recycle materials, and shop locally for sustainable materials."
McAuliffe's dedication to green building has attracted like-minded businesspeople such as Bill Seeger, managing partner at EcoHabitat, a company based in Riverside, Ill., that administers green rehabs to small apartment buildings.
Seeger met McAuliffe at a meeting for the U.S. Green Building Council--of which both are members--and he feels that McAuliffe is making a major impact.
"He is taking a problem and turning it around," Seeger said. "When a home becomes energy efficient, it is more financially viable and gives more money to the surrounding community. When families live in communities, that means that kids go to school, people have to go to work, and money is spent at local establishments such as grocery stores and movie theaters."
Ray Hanania, spokesperson for the Town of Cicero, agrees development is good for the community. "Having a property that is rehabbed and brought up to a higher quality gives a sense of pride to homeowners," he said. "It brings up an entire area, raises the value of surrounding homes, and also increases pride to nearby homeowners."
McAuliffe has received several offers on the house in Cicero. Once it closes, he plans to expand his business from rehabbing three homes per year to eight homes. "I really want to grow my numbers every year; this is just the beginning," he said.