2011-12 Season - Jon Miedema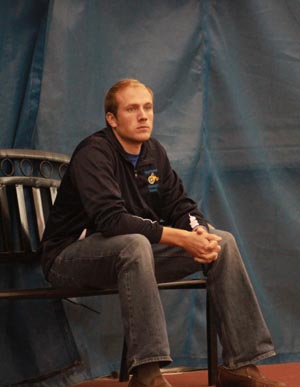 Jon Miedema stepped into the role as the head coach for men's and women's tennis at Augustana in June of 2011. He replaced Adam Strand, who resigned in May to become the head coach in both sports at Luther, his alma mater. Miedema, the 13 th coach in Viking history for the women and the 20 th on the men's side of the ledger, enjoyed success with both programs in his first season.
He led the Augustana women to a 15-11 overall mark and a 2-3 record in the College Conference of Illinois & Wisconsin in 2011-12. The Vikings finished fourth in the CCIW Tournament and won 10 of their last 15 matches.
On the men's side, Augustana went 16-11 overall and 2-3 in the CCIW. The Vikings placed fourth in the conference tournament, dropping a 5-4 heartbreaker to Wheaton in the semi-final round.
Miedema comes to the Vikings after spending one season (2010-11) as the head men's tennis coach at Grace Bible College in Grand Rapids, Michigan. However, he has a wealth of knowledge and experience in the game. He served as the assistant coach for the women's team at Calvin College, his alma mater, during the spring of 2011. He helped lead the Knights to a 19-4 overall record and a second round advancement in the NCAA Division III Championships.
Miedema served as a tennis instructor for three years at the Michigan Athletic Club, noted as one of the top clubs in the Midwest. He also worked as an instructor at the Centennial Country Club in Grand Rapids from 2004 through 2006.
A 2005 graduate of Calvin with a Bachelor of Arts degree in business and communications, Miedema worked as a health insurance agent for Kessler and Associates from 2007 until he took the Augustana position. He was also a loan officer for Brickwood Mortgage from 2005 through 2007.
As a player at Calvin he served as team captain during his senior season of 2005. He was a first team all-conference selection in the Michigan Intercollegiate Athletic Association.
Overall Women

CCIW Women

CCIW

Overall Men

CCIW Men

CCIW

YEAR

W

L

W

L

W

L

W

L

2011-12

15

11

2

3

4 th

16

11

2

3

4th

TOTAL

15

11

2

3

16

11

2

3
ALL-CONFERENCE SELECTIONS UNDER MIEDEMA
WOMEN
2011-12: Kim Sawyer – 1 st and Brittany Reece – 2nd
MEN
2011-12: Adam DeSimone – 1 st and Lawrence Palmer – 2nd