Loza '12 experiences White House press pool
July  01, 2011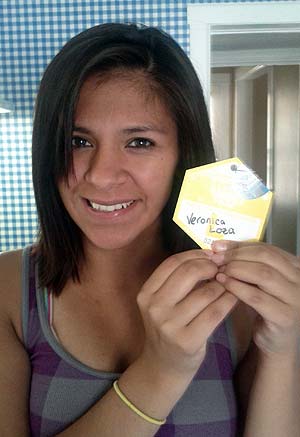 Veronica Loza, a senior from Berwyn, Ill., shows her pass for the White House press pool.
It was a day never to forget. Veronica Loza '12, an intern at WQAD-TV, had an official "White House Press Pool" pass and was part of the WQAD team covering President Barack Obama's visit at the Alcoa Davenport Works facility on Tuesday.
"It was an unbelievable experience," said Loza, a multimedia journalism and mass communications major at Augustana. "I never thought this internship with WQAD would give me full access to getting to see the president of the United States in person. You don't really realize how important he is until you are standing in the same room with him."
Loza helped set up cameras at 7 a.m. and then had to leave with the rest of the media for a few hours to allow Secret Service officers to inspect everyone's equipment. "This helped me realize how real and serious it was," Loza said.
"Although we waited for hours for him to arrive, it was well worth it," she added. "The Alcoa workers and community members stood in line to see him, and you could tell how excited they were, which made the anticipation even higher. Obama's speech was short and sweet, but to have him in front of my eyes was surreal, and it is something that I would have never been able to do without this internship."
Her typical daily responsibilities as a WQAD intern include accompanying photographers and reporters on their assignments to get footage and conduct interviews. "I then come back to the newsroom where I help edit the sound bytes that will be used for the actual newscast," Loza said. "Sometimes I go out with just the photographer and do an interview myself and then that becomes a piece I have to get together for a newscast. I also help the producers write scripts for the anchors and help put stories up on the WQAD website."
Loza points out that going into any internship, you worry that you won't be given the opportunities to do what the staff does. "But it has been the opposite here; at WQAD you help out and are a part of the team," she said.
Even when the president is in town.