Augustana welcomes new dean of the college
Dr. Pareena G. Lawrence to oversee academic program, 313 faculty
June  28, 2011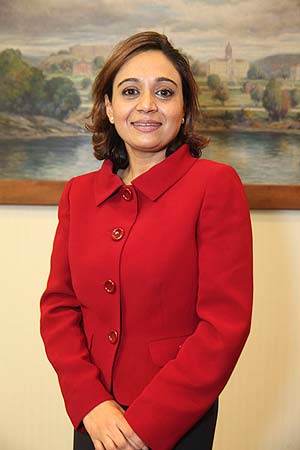 Dr. Pareena G. Lawrence (Augustana Photo Bureau/Marla Alvarado Neuerburg)
Augustana College welcomes Dr. Pareena G. Lawrence, the college's new dean, as she begins her duties July 1.
Dr. Lawrence will administer the academic program and lead the work of 313 faculty members in the college's 28 academic departments.
Formerly the chair of the Division of Social Sciences at the University of Minnesota Morris (UMM), Dr. Lawrence was selected from a field of candidates from across the nation. Her energetic leadership style, passion for the liberal arts and commitment to shared governance impressed members of the search committee and college administrators.
Dr. Lawrence earned her B.A. and M.A. in economics from the University of Delhi in India and her M.Sc. and Ph.D. in economics from Purdue University. She realized her passion for teaching when she was at Purdue. She came to UMM in the fall of 1994 as an assistant professor of economics and management.
"Teaching at a liberal arts college and the liberal arts curriculum and approach to education simply grabbed me, both intellectually and emotionally," Dr. Lawrence said.
During her career at UMM, she received several coveted teaching awards, including the Horace T. Morse Teaching Award for excellence in student learning through teaching, research and creative activities, and the Cesar Chavez Award in recognition of her contribution to communities of color by exemplifying the values championed by the legendary labor and civil rights leader.
"I am very grateful for the opportunity to welcome such a thoughtful and visionary leader as Dr. Lawrence both to the campus and to the broader Quad-Cities community," said Augustana President Steve Bahls.
(See previous article and audio interview)
Scott Cason
Assistant vice president of communication and marketing
(309) 794-7323
scottcason@augustana.edu