Students on a mission: CSI, Harry Potter and more
High school students satisfy their curiosity at Summer Academy on campus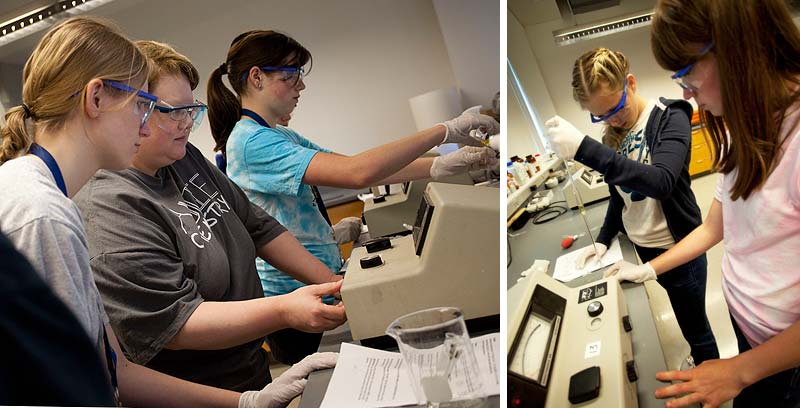 At left, Amiee Waskiewicz, Dr. Mary Ellen Biggin and Sara Bonefas work together to solve a crime in the class "CSI: Augustana" at Summer Academy. At right, high school students Cassie Steffey, left, and Zoriana Telwak conduct a procedure used to test alcohol content in blood for their "CSI: Augustana" course. (Augustana Photo Bureau/Marla Alvarado Neuerburg)
June 27, 2011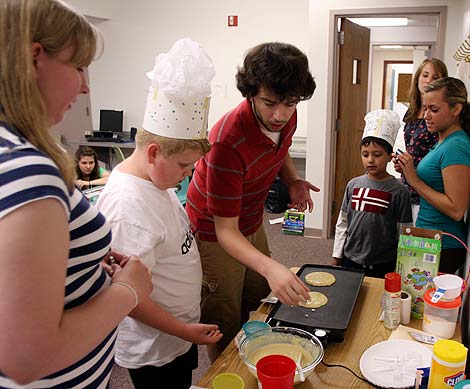 High school student Colleen Brown, far left, observes as children attending Augustana's Center for Communication Disorders make pancakes during "The Day in the Life of a Speech Pathologist" course at Augustana Summer Academy. (Augustana Photo Bureau/Mark Marogil '12)
High school students sampled college life last week during the Augustana Summer Academy. Only in its second year, the program attracted nearly 125 students, double the number served in its first year.
Dr. Darrin Good's class, Human Cadaver Gross Anatomy, continues to reign as the academy's most popular class. A third session had to be added this summer. Augustana is one of only a handful of colleges and universities to give undergraduates the chance to dissect human cadavers, and through the academy, that privilege is extended to high school students with a serious interest in medicine or another health-related field.
Other popular classes were A Day in the Life of a Speech Pathologist, CSI-Augustana, and Orthopaedic Sports Medicine. The speech therapy course allowed students to observe faculty working with young clients and then interact with the clients themselves. Students in CSI-Augustana started off the week investigating a crime scene. They were introduced to the scientific reasoning behind forensics, focusing on DNA, bones and trace evidence. Using Augustana's state-of-the-art equipment, they critically evaluated evidence and applied their findings to solve the crime.
After an introduction to cadaver knee anatomy, students in the sports medicine class had the opportunity to observe and/or assist an orthopedic surgeon performing an ACL (anterior cruciate ligament) reconstruction surgery on a cadaver. The surgeon, Dr. J.C. Clark, is a 2000 Augustana graduate; he was assisted by James Earel, PA, a 2002 Augustana graduate.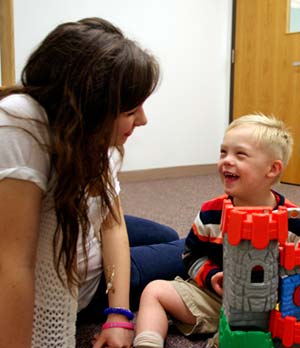 Jessica Jones, a high school student interested in speech therapy, shares a laugh with a young client at the college's clinic during Augustana Summer Academy. (Augustana Photo Bureau/Mark Marogil '12)
"The biggest draw of most of the classes is that high school students are looking for an experience where they can explore their interests in a particular field," said Bonnie Jessee, Augustana Summer Academy administrator. "It's a great way to find out if a career you're considering is what you think it is ... and right for you."
Additional classes held this summer were Flute Boot Camp, The Mid-River Fiction Workshop, and the Harry Potter-themed class, Preparing for Deathly Hallows. Scheduled evening activities included mini-golf, bowling, a water ski show and movie night.
The college's next Augustana Summer Academy will take place in mid-June 2012.