Two professors retire after 40 years
July  19, 2011
In a time when people tend to stay with employers for shorter periods, it is truly noteworthy when two retiring professors are honored for their service--which began 40 years ago for each of them.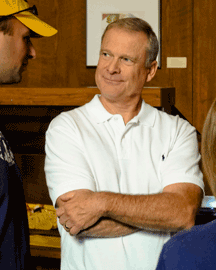 Dr. Lawrence McCallum
Dr. Lawrence McCallum arrived at Augustana in September 1971, as an instructor in the psychology department. At the time, he joined a department of three faculty located in Founders Hall. He was promoted to assistant professor in 1977, associate professor in 1985, and was named the Violet M. Jaeke Professor of Family Life in 1993. From 1981 to 1994, he was chair of the psychology department.
McCallum also served the campus in a variety of capacities, including chair of the Faculty Senate and chair of the Social Sciences Division. For these and other accomplishments, he was honored in 1999 with the Harold T. and Violet M. Jaeke Award.
Although McCallum taught many different courses over the years, he probably is best known among students and alumni for his rigorous History of Psychology course. As a required course for the major, it provided McCallum the unique opportunity to influence every Augustana psychology major during the past 40 years.
"The most satisfying part of my career could be many things, but if I had to list just one, it would probably have to do with the results of some of the 'longer term' outcomes for students," McCallum said. "While it is rewarding to be appreciated in the present, it is particularly satisfying when former students-even if they recently finished a course and are still undergraduates-recognize the value of the things we learned and with which they sometimes struggled."
His colleagues in the department will best remember his wise and steady leadership during a time of dramatic departmental change and growth that resulted in the doubling of both psychology faculty and majors. They look forward to his continued involvement as a professor emeritus.
In retirement, McCallum plans to spend more time with family, including his wife of 42 years, Cindie, and of course his five grandchildren. Traveling is a must--first on his itinerary is a Mediterranean cruise with the couple's dancing friends. Other plans include his consulting business as well as "whatever other remodeling, redecorating or cabinet-making my family has in store for me."
Editor's note: As part of the college's phased retirement program, McCallum will teach winter and spring terms in the 2011-12 academic year. He chose to be honored during this year's commencement.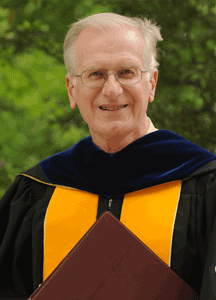 Dr. Douglas Nelson
A 1966 graduate of Augustana, Dr. Douglas Nelson earned his doctorate from the University of Iowa, and then joined the college's faculty in September 1971 as an assistant professor of mathematics. He was appointed associate dean of the college in 1976 and held that position until 1994. During this time, he continued to teach and was promoted to professor in 1992. In 1994, he was appointed provost and served as the chief academic officer of Augustana until 1997 when he chose to return to the classroom as a professor of mathematics and computer science.
"Outside of one's family there is little that is more satisfying than working with students and helping them grow in their understanding of mathematics," Nelson said. "And there has been little as inspiring as wonderful colleagues to work with. So I managed to begin and end my career doing what I loved the most. But I wouldn't trade the years that I worked in academic administration at Augie. I was fortunate in that I had many opportunities to do many different jobs for Augustana. I didn't have to move to other schools to have those experiences."
In addition, Nelson served as chair of the mathematics and computer science department, director of Graduate Programs and director of research for the Augustana Research Foundation. From 1975-2000, Nelson carefully compiled and edited the Augustana College Catalog, not an easy task to be sure. In addition, among his many campus and community accomplishments, Nelson wrote and submitted a successful petition in 1978 for the installation of the Illinois Eta Chapter of Pi Mu Epsilon (national honorary mathematics fraternity) at Augustana.
Known for being fair-minded, infallibly kind and dedicated to helping his students succeed, Nelson was honored with the Harold T. and Violet M. Jaeke Award in 1982.
"What will I do now? Well, I have practiced retiring during four years of phased retirement, so I know it will be wonderful, too," Nelson said. "I'll continue to backpack, probably in the Rockies most often; ski, mostly in the Rockies; and kayak on quiet rivers wherever I can. But the most enjoyment right now is being part of the lives of two grandsons--two months and two years old. Having the title of grandpa is worth the work it took to get there!"
Editor's note: Nelson already has served the final year of his phased retirement, but he will continue to work with the Swenson Swedish Immigration Research Center and with the Augustana Research Foundation.