June 21, 2011
2011 Season - 2011 MEN'S SOCCER PREVIEW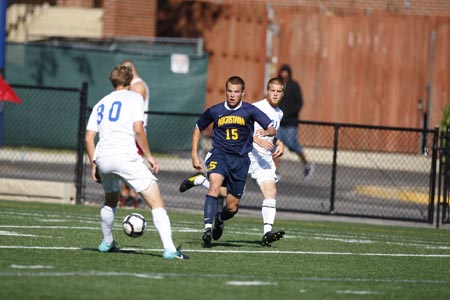 Sean Fidlow was a second team all-conference performer and was voted the Vikings' "Offensive MVP" in 2010.
GENERAL INFORMATION
NAME: Augustana College
CITY/ZIP: Rock Island, Illinois 61201
FOUNDED: 1860
NICKNAME: Vikings
SCHOOL COLORS: Blue & Gold
HOME FIELD: Thorson-Lucken Field
ATHLETIC AFFILIATION: NCAA Division III
RELIGIOUS AFFILIATION: Evangelical Lutheran Church in America (ELCA)
CONFERENCE: College Conference of Illinois and Wisconsin (CCIW)
PRESIDENT: Steven Bahls (Iowa 1971)
ATHLETIC DIRECTOR: Mike Zapolski (Pepperdine, 1985)
ATHLETIC DEPARTMENT PHONE: (309) 794-7521
SOCCER HISTORY
FIRST YEAR OF SOCCER: 1979
OVERALL SOCCER RECORD: 325-213-47 (.596) in 32 seasons...CCIW CHAMPIONSHIPS: 2002
SPORTS INFORMATION
SPORTS INFORMATION DIRECTOR: Dave Wrath
SID OFFICE PHONE: (309) 794-7265
WRATH'S CELL PHONE: (309) 737-5306 SID FAX: (309) 794-7525
E-MAIL ADDRESS: davewrath@augustana.edu
SID MAILING ADDRESS: Dave Wrath, Sports Information Director, Carver PE
Center, Augustana College, Rock Island, Illinois 61201
AUGUSTANA ATHLETIC HOME PAGE: www.augustana.edu
COACHING STAFF
HEAD COACH: Brenton Joseph (Alabama A & M)
JOSEPH'S RECORD: 58-130-19 overall in 11 years as collegiate head coach…28-37-9 in four seasons at Augustana
TRAINER: Rochel Rittgers (Northern Iowa 1981)
TEAM INFORMATION
2010 RECORD: Had an overall record of 8-11-1...Vikings were 4-3 in the CCIW, fourth in the regular season and lost to Wheaton, 2-1, in the first round of the conference tournament.
LETTERWINNERS RETURNING/LOST: 17/Seven
STARTERS RETRURNING/LOST: Nine/Two
STARTERS RETURNING: Jason Beckus (Neuqua Valley HS, Naperville, Ill.), 5-11 Junior, D...1 goal...Brett Bleecher (Marist HS, Oak Lawn, Ill.), 6-0 Senior D...2 assists...Michael Buric (Notre Dame Prep, Scottsdale, Ariz.), 5-11, Sophomore D...1 assist...Tyler Cowherd (Bettendorf HS, Bettendorf, Iowa), 6-1 Sophomore GK...7-10-1 record...1.51 GAA...103 saves & a .786 save percentage...2 shutouts...Cory DeGrave (Fremd HS, Palatine, Ill.), 5-9 Senior, D...Vikings' "Best Defensive Player"...2 assists... Sean Fidlow (Carmel HS, Gurnee, Ill.), 5-9 Senior M...2nd team All-CCIW...Vikings' "Best Offensive Player"...Team-best 14 points on 5 goals and 4 assists...Evan Johnson (Glenbard South HS, Glen Ellyn, Ill.), 6-5 Sophomore M...John McSpadden (Geneva HS, Geneva, Ill.), 6-2 Sophomore F...Tied for team lead with 5 goals...2 assists...Matt Shipon (South Elgin HS, Elgin, Ill.), 5-9 Sophomore M...Vikings' "Newcomer of the Year"...Team's third-leading scorer with 9 points on 3 goals and 3 assists.
STARTERS LOST: Sean O'Malley (University HS, Bloomington, Ill.), 6-0 M...Vikings' MVP...2 goals...1 assist...Andrew Rohwer (Ankeny HS, Ankeny, Iowa), 5-8 F.
2010 AUGUSTANA MEN'S SOCCER SUPERLATIVES
CCIW ALL-CONFERENCE SELECTIONS – Sean Fidlow (2nd team)
MOST GOALS: Sean Fidlow & John McSpadden (5)
MOST ASSISTS: Sean Fidlow (4)
LONGEST WINNING STREAK: 4 matches
MOST CONSECUTIVE SHUTOUTS: 4 matches
TEAM AWARDS
MOST VALUABLE PLAYER – Sean O'Malley
BEST DEFENSIVE PLAYER – Cory DeGrave
BEST OFFENSIVE PLAYER – Sean Fidlow
NEWCOMER OF THE YEAR – Matt Shipon