2011 Season - Brenton Joseph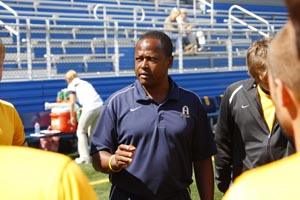 Brenton Joseph became the seventh head coach in men's soccer history at Augustana when he accepted the position in June of 2007. His fourth season at the helm in 2010 was marked by a superb showing in CCIW conference play, as he led a team that was picked to finish sixth in the conference to 4-3-0 conference record and the number four seed in the CCIW playoffs. His career record at Augustana stands at 28-37-9 and his teams have been 10-14-4 in the CCIW and have qualified for the last two conference tournaments.
Joseph joined the Augustana staff after a 10 year run at Benedictine University in Lisle, Illinois where he held head coaching spots with both the men's and women's programs. He replaced Scott Mejia, who compiled a 68-37-6 record in a six year stint with the Vikings that began in 2001. Mejia, who was the head coach for both the men and women, remains the coach of the women's program.
Joseph joined the Benedictine staff in 1997 and served as both the men's and women's head coach from 1997 through 2001. He became solely the women's head coach in 2002 and served in that capacity until 2004 when he took over the reigns of the men's team, beginning with the 2005 season. The men's team had second place finishes in the Northern Illinois Intercollegiate Conference in 1999 and 2000 and in 2005 made it to the championship game of the conference tournament.
His women's teams compiled a record of 50-92-5 during his eight years at the helm and his 2000 team's 14-5 record is the best in school history. Benedictine had a 9.5 game turnaround from the 1999 season and that was the greatest improvement in NCAA Division III women's soccer that season and still ranks as the fourth best improvement all-time in the division. In 2003 he guided the Eagles' women to runner-up finishes in both the regular season and conference tournament as they went 12-7-2 overall and 3-0-2 in conference play.
He served as the assistant men's soccer coach at Alabama A & M in 1994 and was an assistant for the University of Alabama-Huntsville men's program in 1995 and 1996. He helped Alabama-Huntsville to a 16-1-1 record; a Gulf South Conference title and a first ever berth in the NCAA Division II national tournament. He is a 1993 graduate of Alabama A & M with a bachelor of science degree in computer science.
He has extensive coaching experience at both the Olympic Development Program (ODP) and club level in the Chicago area. He has coached the Ajax FX Chicago Soccer Club since 1999.
He was a standout athlete in college, earning third team NCAA All-America honors at Alabama A & M when he helped lead his team to an 18-2 record. He was the team's leader in assists for three years and was a second team Co SIDA Academic All-American. He was also part of an ESPN feature on outstanding minority athletes at the collegiate level. He played one year at Mercer Community College and was part of a team that was ranked number one in the nation and won a regional championship.
Joseph played professional soccer for the Chattanooga Express and was a member of the junior national team for his native country of Trinidad and Tobago.
BRENTON JOSEPH'S RECORD
| | | | | | | | | | | | | | | |
| --- | --- | --- | --- | --- | --- | --- | --- | --- | --- | --- | --- | --- | --- | --- |
| YEAR | W (Men) | L | T | .PCT | W | L | T | .PCT | PLACE | W (Women) | L | T | .PCT | SCHOOL |
| 1997 | 4 | 14 | 0 | .222 | | | | | | | | | | Benedictine |
| 1998 | 4 | 15 | 0 | .210 | | | | | | | | | | Benedictine |
| 1999 | 6 | 12 | 0 | .333 | | | | | | 4 | 15 | 0 | .210 | Benedictine |
| 2000 | 5 | 14 | 1 | .275 | | | | | | 14 | 5 | 0 | .736 | Benedictine |
| 2001 | 4 | 14 | 1 | .236 | | | | | | 6 | 12 | 0 | .333 | Benedictine |
| 2002 | | | | | | | | | | 4 | 15 | 0 | .210 | Benedictine |
| 2003 | | | | | | | | | | 12 | 7 | 2 | .619 | Benedictine |
| 2004 | | | | | | | | | | 5 | 13 | 1 | .289 | Benedictine |
| 2005 | 0 | 16 | 4 | .111 | | | | | | | | | | Benedictine |
| 2006 | 7 | 8 | 4 | .474 | | | | | | | | | | Benedictine |
| BENEDICTINE CAREER | 30 | 93 | 10 | .263 | | | | | | 45 | 67 | 3 | .404 | |
| | | | | | | | | | | | | | | |
| | | | | | CCIW | | | | PLACE | | | | | |
| 2007 | 8 | 7 | 3 | .528 | 2 | 4 | 1 | .357 | Sixth | | | | | AUGUSTANA |
| 2008 | 6 | 9 | 2 | .411 | 1 | 5 | 1 | .214 | Seventh | | | | | AUGUSTANA |
| 2009 | 6 | 10 | 3 | .395 | 3 | 2 | 2 | .571 | Fourth | | | | | AUGUSTANA |
| 2010 | 8 | 11 | 1 | .425 | 4 | 3 | 0 | .571 | Fourth | | | | | AUGUSTANA |
| AUGUSTANA CAREER | 28 | 37 | 9 | .439 | 10 | 14 | 4 | .429 | | | | | | |
| OVERALL CAREER | 58 | 130 | 19 | .322 | | | | | | 50 | 92 | 5 | .357 | |