June 17, 2011
2011 Season - Growth and maturity keys in 2011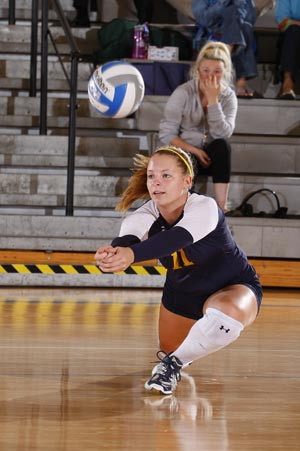 Junior Kelsey Mikula led the Vikings in assists in 2010 with an average of 5.27 per game. She also averaged 1.73 digs and had 21 service aces.
After a solid first season under head coach Jamie Walters, which resulted in a fourth place finish in the College Conference of Illinois & Wisconsin, the Augustana volleyball team is looking forward to building on a solid foundation heading into 2011. The Vikings finished the 2010 campaign 12-20 overall but were 4-3 in the CCIW and hosted a first round match in the conference tournament.
"We are extremely excited to get going this year," said Walters who had a whirlwind summer in 2010 when she was named the head coach at the end of June. "We made tremendous growth last year, during both the season and the off-season. I thought our team showed great maturity in handling the coaching change and we made great strides with our leadership program in the off-season."
Last year Walters guided her team through a rough start. After being picked to finish seventh in the CCIW by the league coaches, the Vikings promptly struggled out of the gate. They lost eight of their first nine matched and were 2-9 before a victory over an undefeated Ashford team on September 16 provided a spark. They went 10-10 over the final 20 matches and finished fourth in the CCIW with a 4-3 record.
"All season long we told our team to 'stay the course' and that paid off for us," said Walters who spent three seasons at Aurora before replacing Janelle Hester last summer. "We made sure we did the little things and that is what we worked on during the off-season and will stress heading into this year."
Nine letter winners return from last year and the 2011 roster will also feature 23 freshmen as Walters builds up the numbers in the program.
Walters knows that replacing her two departed seniors from a year ago will not be easy. Courtney Jungnickel and Jenna Loncar were both four year performers who contributed on and off the court. Jungnickel was a four-time all-conference performer who graduated as the school record holder for career service aces and was second on the career list in both kills and digs. Loncar was a team captain a year ago and the winner of the Augie Award for spirit and dedication.
"There are certainly some unknowns with the loss of Jenna and Courtney," said Walters. "Those were two seniors who had been in the program and who made extremely valuable contributions to our program in terms of play and leadership. How well we fill the void will go a long way toward what kind of success we have."
One area that will need immediate attention will be back row defense and whoever fills the defensive specialist or libero positions will be a newcomer.
Junior Kelsey Mikula (Coal City HS, Coal City, Ill.) and sophomore Katrina Colclasure (Tri-Valley HS, Bloomington, Ill.) split the setter's position last year and both will be back in 2011. Mikula played in 112 games last year and had a team high 590 assists for a 5.27 average. She also averaged 1.73 digs and had 21 service aces. Colclasure was involved in 101 games and averaged 4.33 assists per game with 15 service aces and 214 digs.
Brianna Skeens (Vernon Hills HS, Libertyville, Ill.) will be the lone senior on the team and she is coming off a solid season as a middle hitter. She was second on the team in kills with 231 in 107 games for a 2.16 average. She had a team high 51 blocks (16 solo and 35 assists) with 10 service aces. Junior Sarah Williams (Rockford Lutheran HS, Loves Park, Ill.) was voted the Vikings' "Most Improved Player" a year ago. She played in 87 games with 67 kills and 45 total blocks (14 solo and 31 assists). Also in the mix in the middle will be sophomore Katie Chojnacki (Arvada West HS, Arvada, Colo.).
Sophomores Stephanie Huber (Sycamore HS, Sycamore, Ill.) and Morgan Stittleburg (Black River Falls HS, Black River Falls, Wis.) are the top returning players in the battle for playing time on the right side. Huber played in 66 games and had 67 kills while Stittleburg was in 83 games and had 81 kills.
Sophomore outside hitter Kristen Yerkes (Marist HS, Palos Heights, Ill.) played in 101 games as a freshman and averaged 1.60 kills and 1.91 digs per game. She had 41 service aces and 28 total blocks (six solo and 22 assists). Another sophomore, Paige Buchanan (Millard North HS, Omaha, Neb.) will be a candidate for the outside hitter's spot. She played in 39 games and had 62 kills and 62 digs.
"We made so many strides over the past year," said Walters. "We are excited about the future and what this group can accomplish."